WARRENTON, Ore. —
A sperm whale that washed up on the Oregon coast over the weekend died from a ship strike, according to samples taken from the National Oceanic and Atmospheric Administration.
"This necropsy is an attempt to determine the cause of death for the whale as well as its health of the whale at the time that it died," said Matt Burks, a spokesman for NOAA.
The necropsy determined that the whale was about 20 years old. It was already partially decomposed when it washed up, so researchers determined that it had been dead "for some time."
Based on bleeding found from large, visible wounds on the whale's body, they also determined it had likely died after it was struck by a ship.
According to a federal database of whale strandings kept by NOAA, there have been 189 large whale strandings in Oregon since 1989. Of those, just five have been found to be the result of ship strikes.
Experts say the number of whales actually hit by ships is likely far higher because a ship's crew may not be aware when they hit a whale and, when they do, the animals may survive or die at sea and never come ashore.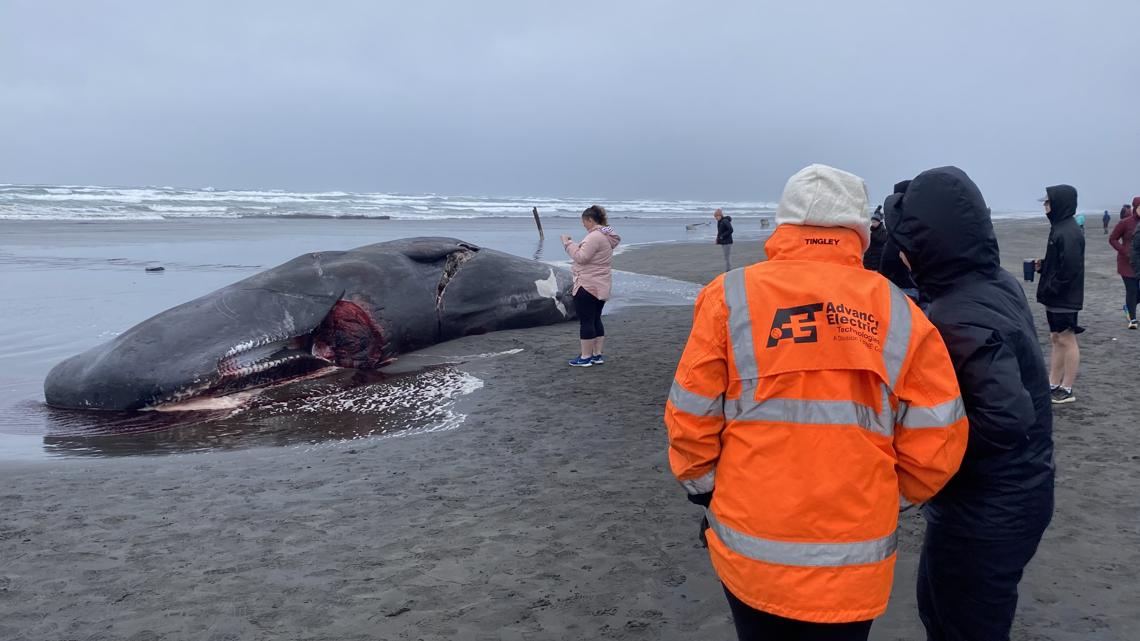 The whale came ashore at Fort Stevens State Park just a few hundred feet from the shipwreck of the Peter Iredale, a popular tourist attraction.
But most people who came to the beach Monday amid intermittent rain showers weren't there for the shipwreck.
Anand Gawarikar brought his young son, Pranav, from their home in Portland to get a look at the action.
"He's seen about it and read about it in books, and I thought this was a great opportunity for him to see the creature," Gawarikar said.
What to know about sperm whales
Sperm whales account for about 12% of the whales that wash up on Oregon's coast, said Jim Rice, program manager of the Marine Mammal Stranding Network. Gray whales make up nearly half, followed by humpbacks, which account for 13%.
As the largest whales with teeth, sperm whales usually hunt in deep waters, feeding on squid, sharks and other prey. Fully grown, they can reach lengths of up to 60 feet and can live for up to 60 years.
Aggressively hunted for their blubber for nearly two centuries, sperm whales were listed under the Endangered Species Act in 1970. It's unclear just how many exist in the wild, but their populations are thought to be increasing since commercial whaling was banned in 1986.
Burks said that, while the death of the animal was a sad occasion, it did not die in vain.
"Everything they take here, all the samples, will be stored in perpetuity, in cold storage, for research purposes," he said, noting that hundreds of people had come to see the necropsy throughout the day.
"Today has been a really good opportunity to teach people about sperm whales, about their populations and it's kind of turned into a living classroom out here for environmental education," he said.

What will become of the whale will be up to the Oregon State Parks Department, Burks said, but given its size, it will likely be left to decompose in place.