SPOKANE, Wash. — Underhill Park was host to two unlikely visitors Wednesday on morning: a pair of bison.
Hazel, weighing in at 1,300 pounds, and 1,700-pound Baxter escaped from their South Hill home on Wednesday morning, just off 21st Street.
The bison crossed both Freya and Thor Streets in their odyssey to Underhill Park, according to police. Police attempted to steer them to the park in order to corral them.
Once officers steered the bison toward the park, they were spooked by someone and ran off into the forest behind the park, according to a KREM reporter.
Officers were eventually able to corral the bison onto the baseball diamond, where they led them onto a horse trailer.
Cowboy Wrangler and Spokane Police Officer Lee Barker responded to the location because he has raised bison in the past, according to Spokane police Sgt. Terry Preuninger.
The owner of the bison and a local wrangler responded to the location and set up a trailer to corral the bison, Preuninger said.
Two Buffalo spotted in Underhill Park in Spokane Valley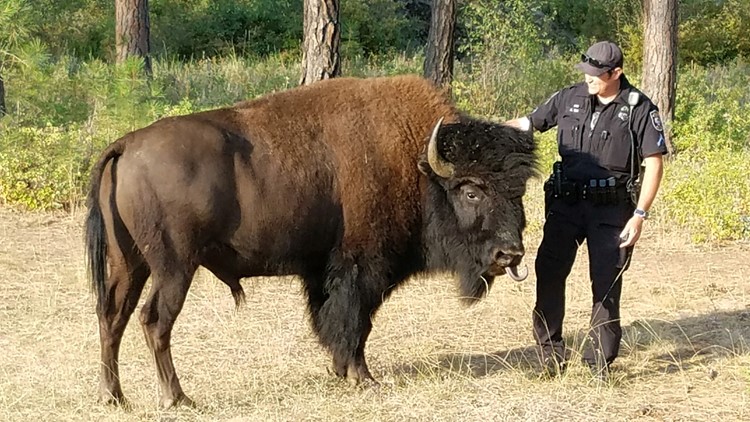 Spokane police officers cordoned off the area, and through the direction of Officer Barker the bison were loaded into a trailer and safely removed from the area.
All in all, the lowspeed chase lasted two hours, police say.
No bison or people were injured, and no damages were reported.
This isn't the first time a strange animal has gotten loose in the Inland Northwest.
In September 2007, a zebra named 'Zeek' got loose from a ranch on the South Hill and drew a crowd at a park on South Regal Street.
A wallaroo named 'Hopkins' went missing in Deer Park in August 2013. His owner said a loud noise scared him away. He was missing for nearly a month. He was later captured in the owner's neighbor's garden.