SPOKANE, Wash. — Avista is asking for a permit to build a park next to its headquarters on Upriver Drive, a project that would include the permanent closure of the thoroughfare from Mission Avenue to N. Center Street.
The company confirmed in a statement that they have applied for a permit with the city to vacate that section of Upriver.
About 1,800 feet of the road would be vacated, according to Avista.
According to a notice sent out to neighbors, the park "may include a non-motorized boat launch and dock."
In a statement, the company's senior environmental affairs directors Bruce Howard said "Avista is asking to turn a portion of Upriver Drive into a public park."
"This will make using this section of the Centennial Trail safer. The park will also provide new access to the Spokane River and shoreline," the statement reads.
Some neighbors have expressed concerns about the traffic impacts, though others are excited about more green space and river access.
"Most have been in support and really excited about another positive thing happening in our community," said Lauren Schubring, the Logan Neighborhood Council President.
The company says they have met with neighborhood councils and conducted a traffic study.
Traffic flowing upstream from Mission would be routed to Perry and around the northern side of Avista's campus. Downstream traffic would be routed through North Center to Indiana.
Photos: Roads before and after proposed park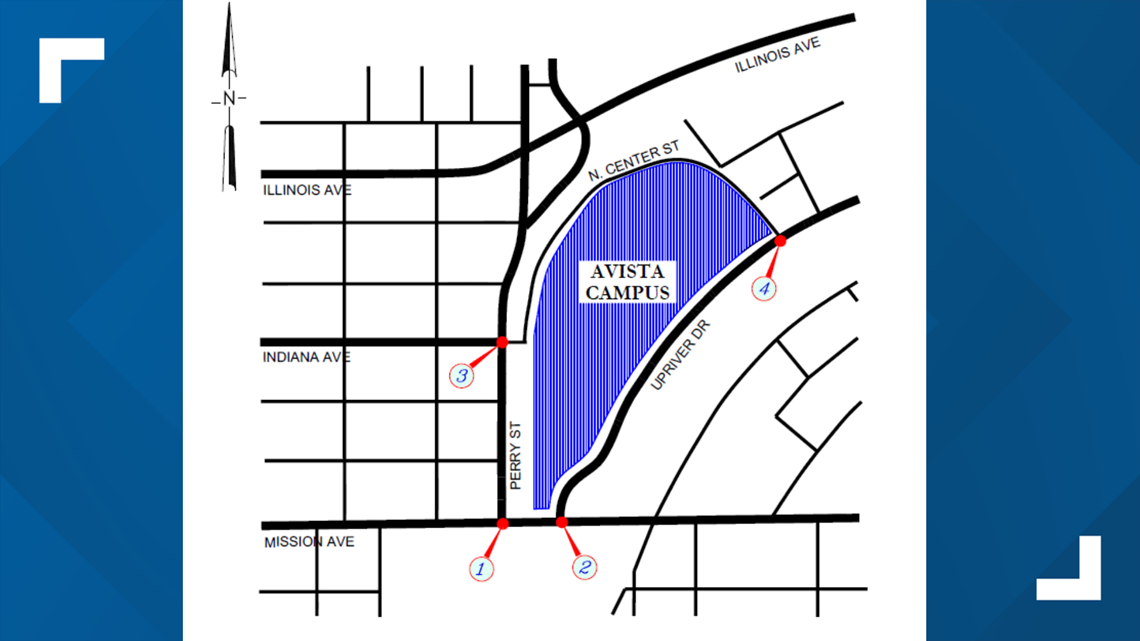 The company says the change will also improve traffic safety by keeping cars on better-controlled arterials. Howard says the Mission and Upriver intersection is currently particularly dangerous.
"This has been a problem intersection for the city for years. It's frequently a pileup of broken glass and stuff," he said.
The traffic study forecasts slight increases or decreases in times at most intersection, but a more significant increase at the already busy Mission and Perry light.
The next step is a community meeting, which will be held on Aug. 21 at 5:30 p.m. at the Avista Headquarters. A more intensive public hearing would be held later in the application process.
"We always would love to collaborate more and actually give some feedback on what we as a community would like," Schubring said.
RELATED: Avista warns of changing water levels on Spokane River, Lake Coeur d'Alene
RELATED: Avista's history with Washington regulators