Air Force may have known about chemical dangers long before Fairchild water contamination
As KREM 2 investigated the problem with the water in Airway Heights, we learned the military knew about the potential dangers well before this year.
AIRWAY HEIGHTS, Wash. – Air Force officials announced Wednesday they will now cover the city of Airway Heights' cost of clean drinking water for up to 439.08 million gallons of drinking water for a potential cost of more than $687,000.
It has been six months since massive contamination first came to light. As of Wednesday, the groundwater in that area is still unsafe to drink.
Right after the problem surfaced, Airway Heights had to buy clean water from Spokane because the main aquifer is contaminated. As KREM 2 investigated the problem, we learned the military knew about the potential dangers well before this year.
Justin and Taylor Deal never used to think twice about drinking the tap water in their Airway Heights home. Then on May 16, the city and Fairchild Air Force Base notified thousands of families of widespread contamination.
"We immediately cut off all water in our household. I didn't shower in it. Our dogs didn't get it. I didn't drink it," the Deals said.
The water they had trusted for the last four and a half years was no longer safe. The problem was a little known chemical called PFOS/PFOA, two different but similar compounds used in firefighting foam, a special fire suppressant made to work on jet fuel. It has been used at hundreds of military bases across the country for decades, dating back at Fairchild to the 1970s.
It was very scary for the Deals because Taylor had learned she was drinking for two.
"I was early on in my pregnancy. That's such a critical time for organ development," Taylor said.
The health risks from long-term exposure to PFOS/PFOA are significant. It can cause low birth weight and developmental delays in children. In adults it can cause high blood pressure, thyroid and immune system deficiencies, kidney and testicular cancer.
"I was terrified. I mean, for my child's sake, at that point. Because, what's going to happen to me later on down the line? But for now, a newborn child that I'm bringing into the world, I just put her in risk's way," Taylor explained.
Fairchild officials said they began testing for PFOS/PFOAs back in May. The Environmental Protection Agency had just issued an official drinking water health advisory, limiting concentrations of the chemical to 70 parts per trillion. This sparked the Air Force to start testing groundwater around each of its bases. Testing at Fairchild began in April 2017. By May, the results were in. Some wells bordering the base contained at least 15 times more contamination than the EPA considered safe.
It is believed the contamination started at an old, former fire training site at Fairchild in what is called the 'burn pit.' It is no longer being used and it has not been used for years. But there are still a lot of questions about the contamination and what happens next.
Colonel Ryan Samuelson has been the Fairchild Base Commander since July of 2016. For the last six months, he said one of his top priorities has been reassuring the Airway Heights community.
"The Air Force is going to be in this. We're going to stick with these residents until we determine exactly what contamination, if any, came from our activities, and how we're going to mitigate that," Samuelson said.
He said the Air Force acted quickly once the contamination was confirmed.
"In May of 2016, when the EPA established 70 parts per trillion, that really established the threshold and the process by which we would move forward to investigate sources. And so we tested our own internal well. And those areas down by the firefighting were high," he explained.
He is talking about that old burn pit, where Fairchild conducted regular training exercises with the firefighting foam, known in the military as AFFF. The training grounds sit just over the Grande Ronde Basalt, a massive, but shallow aquifer just 200 feet below the surface. It is now believed the repeated exposure from AFFF has been leaching dangerous chemicals into that groundwater for decades.
"I think the Air Force has done a pretty good job of identifying this is a risk. If you think about it, May of 16, the EPA came out with 70 parts per trillion, and in less than a year, we moved out with how we were going to mitigate," Samuelson said.
It turns out, the side-effects of PFOS/PFOA are nothing new. In 2000, mega-conglomerate 3M agreed to voluntarily phase out the chemical from its products after the EPA said it was a "likely carcinogenic" with a "strong tendency to accumulate" and "poses a risk to human health and the environment." At the time, the company made AFFF for the entire U.S. military, but also used the chemicals in Teflon and Scotchguard. The agreement was to reduce the chemical content by 2010 and eliminate by 2015. The military used the foam until the very end.
KREM 2 found internal records from the Department of Defense showing high-ranking officials knew about the adverse health effects of AFFF in early 2001. Then, Assistant Deputy Undersecretary of Defense issued a memo to multiple agencies saying the EPA found PFOS chemicals to be "persistent, bio-accumulating, and toxic." He called for a meeting to discuss "high-risk uses of PFOS" and ideas on "what should be done to reduce or eliminate" its release into the environment. But again, the military continued to use the foam until it was no longer available. In the last several years, PFOS/PFOA contamination has been identified at almost 40 military bases across the U.S., impacting millions of people.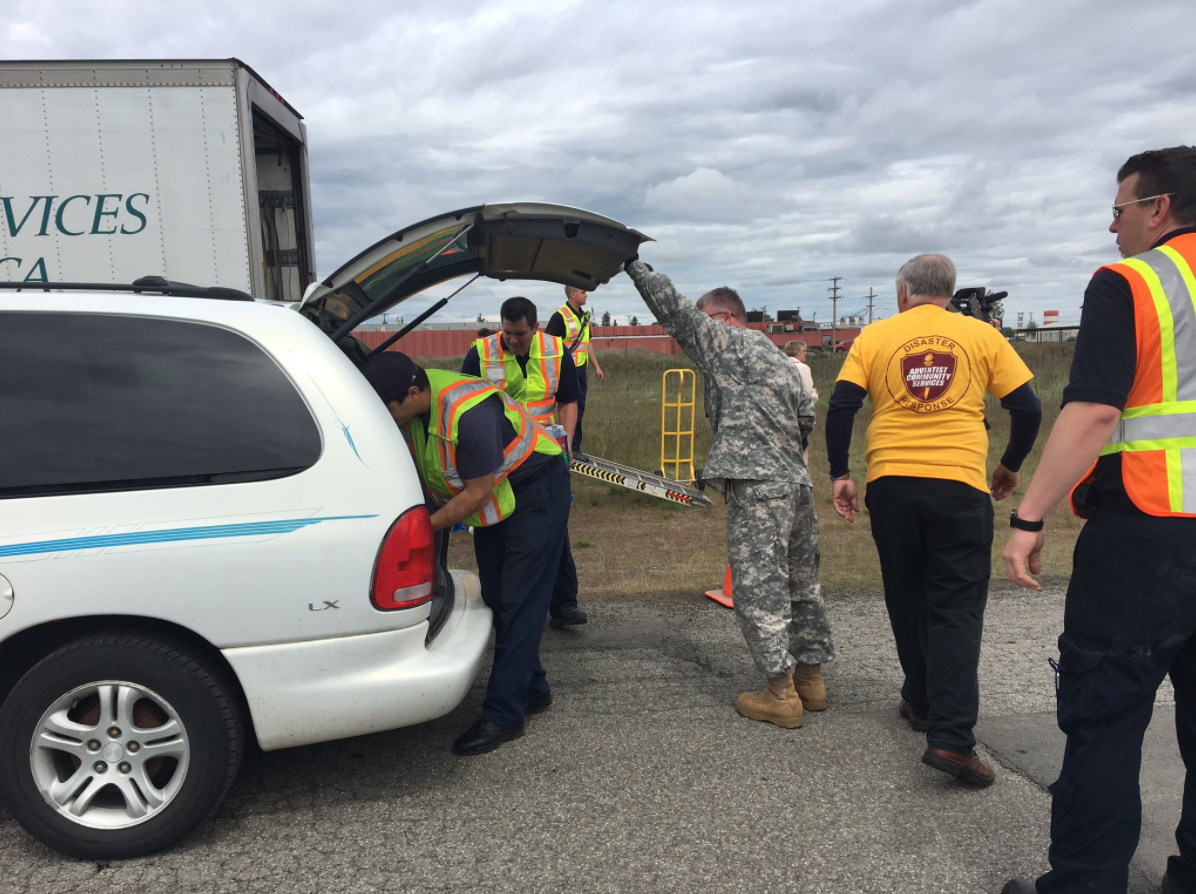 "The foam began being pulled out of firefighting equipment about two years ago. And of course, with aviation firefighting foam, it's very particular. So you had to have another source because it smothers fires with jet fuel very, very quickly. And so until that replacement foam could come online, many areas continued to use it," Samuelson explained.
KREM 2 asked Samuelson what he would say to those families, who have lived in the area for years that are saying it is too late now because they have already had the contamination.
"I'm not a health expert, I'll be honest with you," Samuelson said. "I know the Air Force, we look to the CDC and the EPA to establish those. We've encouraged folks to visit our website. It's got a number of links to experts in that category can answer.
Samuelson said Fairchild, like most other bases, did not quit using AFFF until 2015, when the EPA declared 70 parts per trillion as the safe limit for drinking water. So, if the Air Force knew that it was causing problems, why not stop using the foam earlier?
"I think there's two parts. One, I think it's very tough to find an exact date that said no longer use this. I do know that one of the things that took a little bit longer was, 'What is the alternative?' You can't use water and you can't use your standard firefighting foam on aviation accidents. It would be too detrimental to the public if an aircraft were to go down," Samuelson said.

Samuelson said he has never shied away from tough questions or criticism from the Airway Heights community. In fact, he was often the one answering questions at Airway Heights public meetings at the height of the city's water crisis.
"It's important to me, because this base wouldn't be here without this community. Seventy-five years ago, this community put this base here. I'm not going to turn this over to the bureaucratic organization. I'm not going to give you a Washington D.C. number to call. I believe I represent the base here, and I think these community members have the right to know," he said.
Transparency is exactly what families like the Deals said has been missing from the very beginning.
"I think they have known about it a lot longer than they put out there. But they didn't put the effort into testing just how bad it was," they said.
The Deals said they are not sticking around to see what the base offers as a solution. They plan to move out of Airway Heights to somewhere up north, where they know the water is safe. With a baby on the way, the Deals cannot help but wonder if the water near the base can ever truly be safe. They agree, it is just not worth the risk.
Fairchild is still widening their search grid to find out how far out the contamination goes. So far, it is almost 60 private wells, in addition to the city water. The commander said the base is working with each individual property owner on a solution, because the needs of each property do vary. Also on Wednesday, Air Force officials said there is enough evidence that this contamination is likely from the base. Now the goal is to figure out a long-term solution for Airway Heights' public water.