SPOKANE, Wash. — Two female students have now been charged as part of a reported mob scene inside Lewis and Clark High School in Spokane. That mob of students reportedly threatened staff members on Thursday.
The two students were each charged with criminal mischief riot and harassment/ threat to harm. Both females are juveniles. The charges are being handled through the juvenile court.
A Lewis and Clark staff member spoke to KREM 2 anonymously and described the scene as "something out of a movie." There was a lot of screaming and yelling, and students seemed to have a "prison" mentality.
The incident happened on May 5 just after 11 a.m. during lunch. A staff member tells us that a group of students were threatening another student. The scene escalated and, according to Spokane police, the mob grew to 75-plus students.
Spokane police received multiple 911 calls. According to SPD, an unidentified caller said that the situation had de-escalated and that police were not needed. Then, a campus security officer called and said that things were not okay.
When police arrived, officers determined that they did, in fact, need to be there. They found a large group of students around the student office.
It was also reported that many students had their phones out and were recording what happened.
Late tonight, KREM 2 got hold of a letter sent from Lewis and Clark's principal to staff members, addressing the situation that unfolded at the school today. We've received this letter from multiple sources.
In it, the principal writes:
"Today during lunch, we had students harass and pursue a student saying demeaning, threatening, and harmful things to her. The student was trying to walk away, but the group of students continued to follow her and make threatening, mean, and harmful comments. This incident began on the ground floor hallway by the library and then moved to the first floor by the student and main office area."
The principal continued to write that staff tried to stop the incident but the students continued to make verbal threats. And, that 911 was called.
The letter concludes with the principal writing that the students are being emergency expelled.
KREM 2 also obtained an email addressed to the principal of Lewis and Clark High School and a number of SPS staffers and the teacher's union. KREM 2 has not verified the author of the letter, however the writer says they are writing on behalf of themselves and "countless staff members."
"We are not feeling safe in this building that we so love," the author writes. "Many of us have worked here for decades and even having lived through an active shooter, the student climate has changes here, and it isn't just because of COVID. We need more than reassurances that everything is fine, and we need to know we are safe through immediate policy change and action. "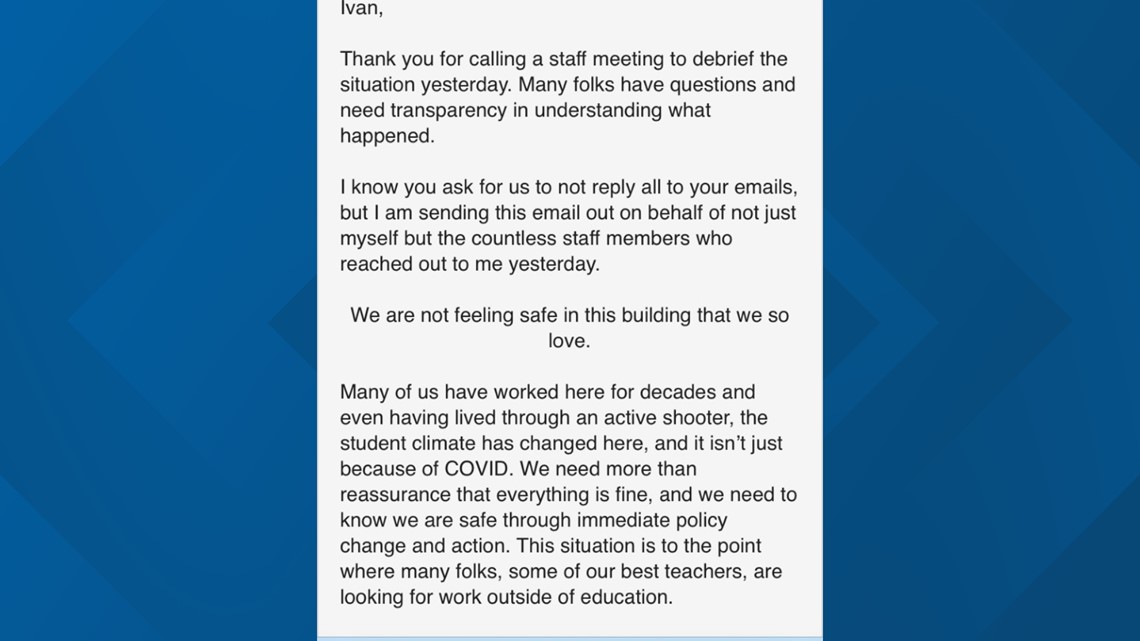 As of 3:15 p.m. Friday KREM 2 has spoke with multiple parents with students at the high school who said they have not received any communication from the school or the district regarding the incident.
KREM 2 has reached out to Spokane Public Schools numerous times since we learned about the incident Thursday evening. At 3:51 p.m. Friday, Spokane Public Schools sent the following statement:
"Four students engaged in a disruption during the lunch period. As the dispute escalated, a loud crowd of students seeking to observe the situation began to form. Administrators deescalated the situation, and several staff members felt the need to call the Spokane Police Department to seek additional support. SPD responded very quickly and are working with administrators to evaluate potential actions against the students who instigated the situation. There was no physical violence, weapons, or disruption to classrooms. Unfortunately, students gather to observe potential altercations, which is something school staff work to deescalate as quickly as possible. Accounts of the incident vary, as some students are stating it was vastly exaggerated and others indicating concern.
"Building administrators evaluate each situation based on factors such as the number of students involved and level of risk to determine when to communicate with individual families versus communication to the entire student body. LC staff have been actively communicating with families. In this situation, there was no physical violence, weapon, or disruption to classrooms."