84 years after a Kimberly woman went missing, her family convinced police to open an investigation into her disappearance
Police aim to use ground penetrating radar in areas of interest to find clues regarding Agnes Fults. There is no known record of her disappearance.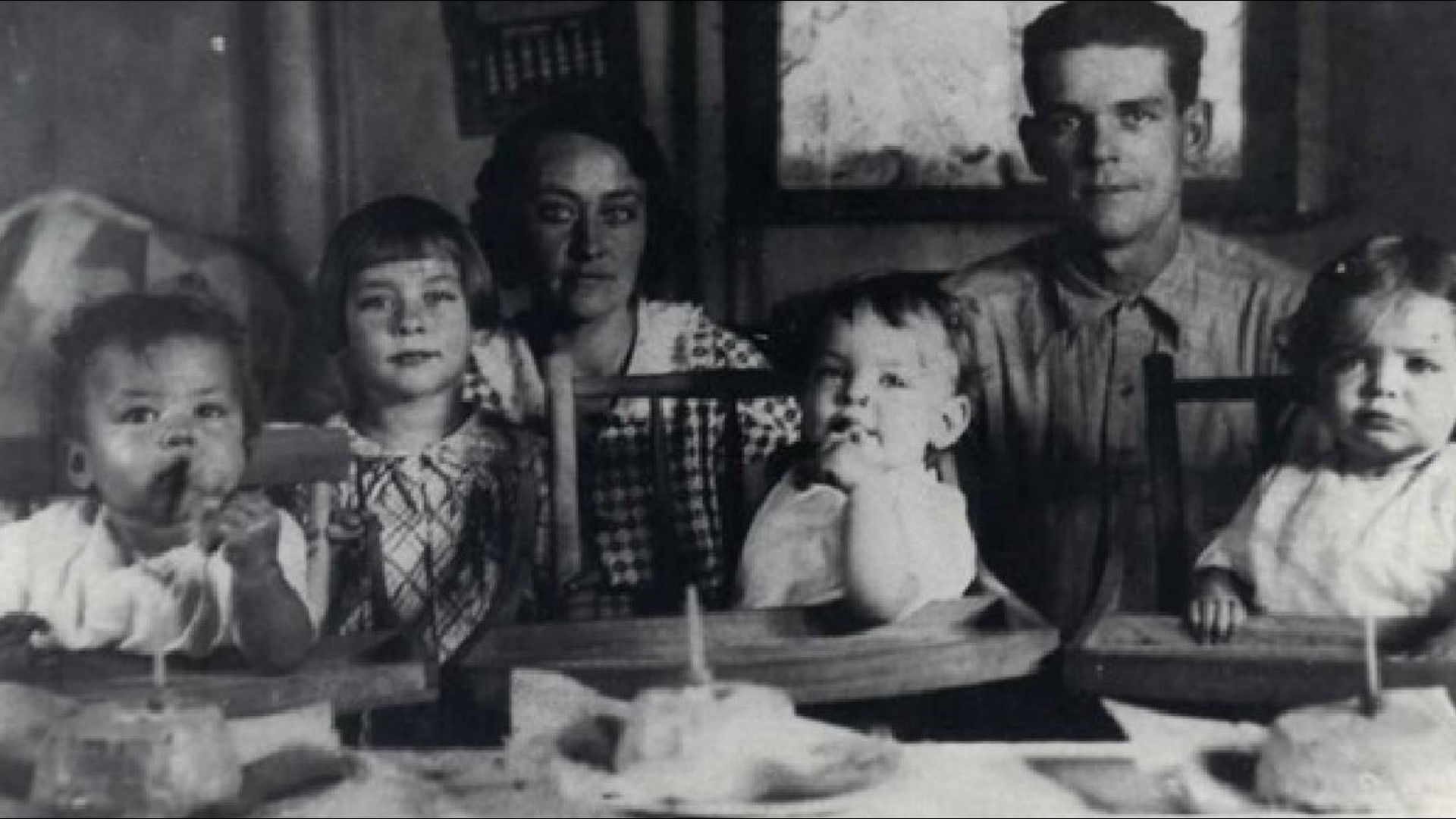 When Marsha Trotter messaged Rebecca Hardesty on Ancestry.com, wondering why she was posting pictures of Trotter's family, they had no idea they were cousins.
And, they had no idea the two simultaneously spent two decades researching what happened to their great-grandmother, Agnes Fults, who went missing from Kimberly, Idaho in 1939.
The cousins finally brought their research to the local police department in July of 2023 – and police were stunned.
After 84 years, the Kimberly Police Department opened an investigation into the disappearance of Agnes Fults – all because of two women who want to lay their great-grandmother to rest.
The Fults family
:
Dubbed 'Idaho's famous triplets'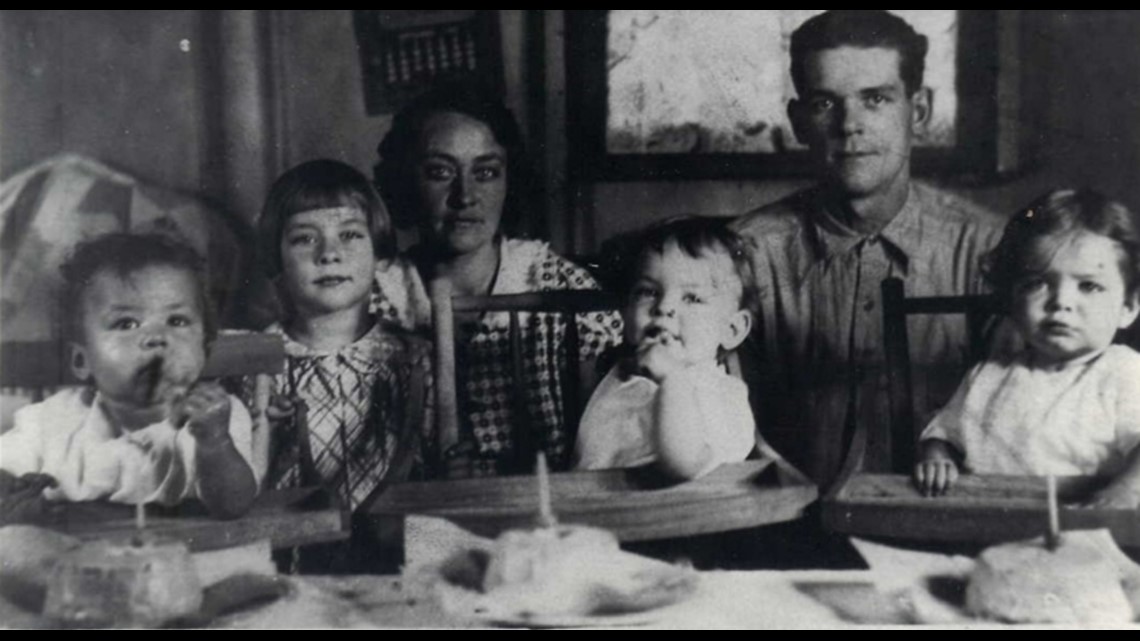 Clara Agnes Knight, known as Agnes, was born in Tennessee in 1907. She later married Alton Fults in 1929 and gave birth to her first girl, Mabel, in 1930. Three years later, the family moved across the country to Kimberly, Idaho to a small home at 553 Main Street, surrounded by potato cellars, train tracks and farmland.
Agnes Fults gave birth to triplets in 1934 – Josephine, Julene and Joyce Fults – who were instant stars in the local newspaper for being Twin Falls County's first trio. The papers followed their every move through certain milestones and birthdays.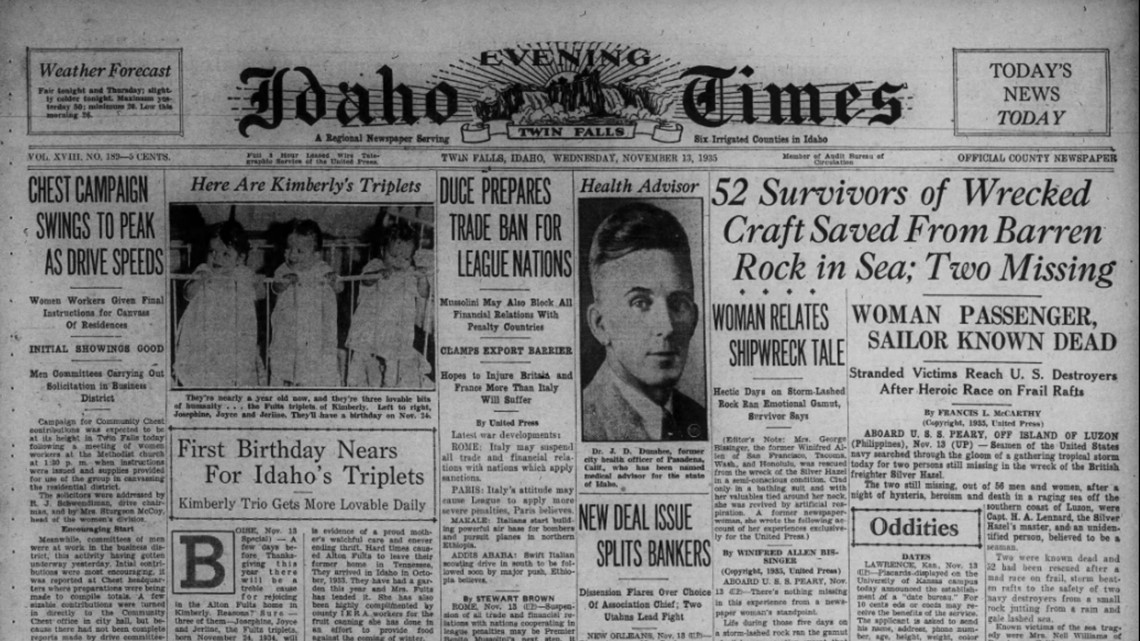 In one 1935 newspaper article in the Times-News, a reporter relayed the weight of each sibling just before their first birthday; "Josephine weighed 17 pounds and eight ounces; Joyce weighed 17 pounds and 12 ounces and (Julene) 17 pounds and five ounces," it stated.
Coverage of the children continued for years– they were entered in a contest called the "Million Dollar Baby Show," were part of floats that ran in parades and won an award for "the first triplets to enter the show," newspaper archives show.
In March of 1939, the Twin Falls Idaho Evening Times reported that the Fults triplets and their mother were ill with the measles.
After that, there was no further mention of Agnes Fults in the local newspaper.
"All of a sudden the last article was in 1939 in the spring, and then after that, it was nothing. Everything stopped. Nothing at all," Hardesty said.
A year later, the triplets moved to Altamont, Tennessee with their aunt, Martha Hagerman. Hagerman and the triplets eventually came back to Kimberly in 1949, the Times-News reported. Again, there is no mention of their mother.
"Two weeks ago they returned to Kimberly and are living with their aunt, Mrs. Martha Hagerman. They will be students in the eighth grade this fall," the article said. "They now sing regularly at the Kimberly Church of the Nazarene. Two of the girls also play guitar."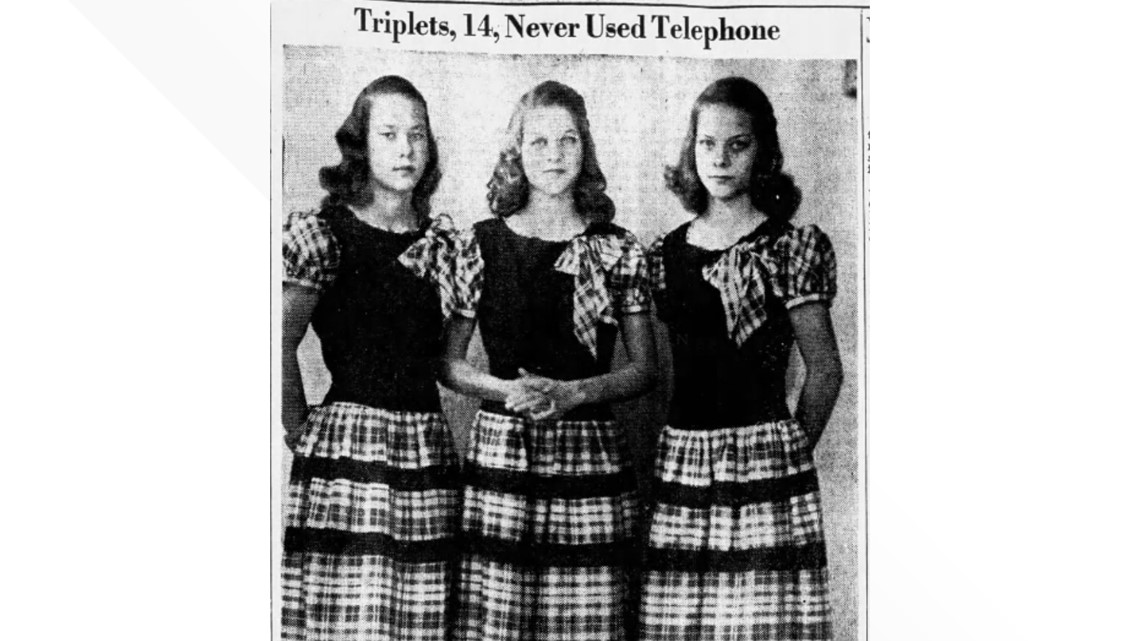 Missing records
:
Her name is there, but she isn't.
Trotter began taking care of her grandmother, Julene Fults-Askew, years ago – and the mystery of where her great-grandmother went just seemed to eat at her. That's when she started asking questions.
"I said, 'why didn't somebody pursue it?' And she goes, 'Marsha, we were taught not to ask questions. We were told you don't ask questions. And you don't talk about it,'" Trotter said.
Hardesty, Mabel Fults' granddaughter, also pressed for answers. Even though – Hardesty said her grandmother still remembered waking up the next morning without her mother.
"Mommy put her to bed the night before. She woke up in the morning and her mother was just gone. Her things were there, her clothes were still there. Everything was still there. But mom just wasn't there. She remembers asking where mom was, and everyone told her to stop asking," Hardesty said. "Eventually, they just told her mom was gone and she wasn't coming back, that she didn't want her anymore, that she had run away."
Not much is known about the timeline surrounding Fults' disappearance. To the Kimberly Police Department's knowledge, there was never a missing persons report filed.
But, Hardesty and Trotter didn't let the lack of information stop them. They poured over 83-year-old records looking for any sign of documentation from their great-grandmother, when they found a 1939 record of members of the Kimberly Nazarene Church. Agnes Fults is shown to be removed from the church by a board decision. However, no one knows why, Trotter said.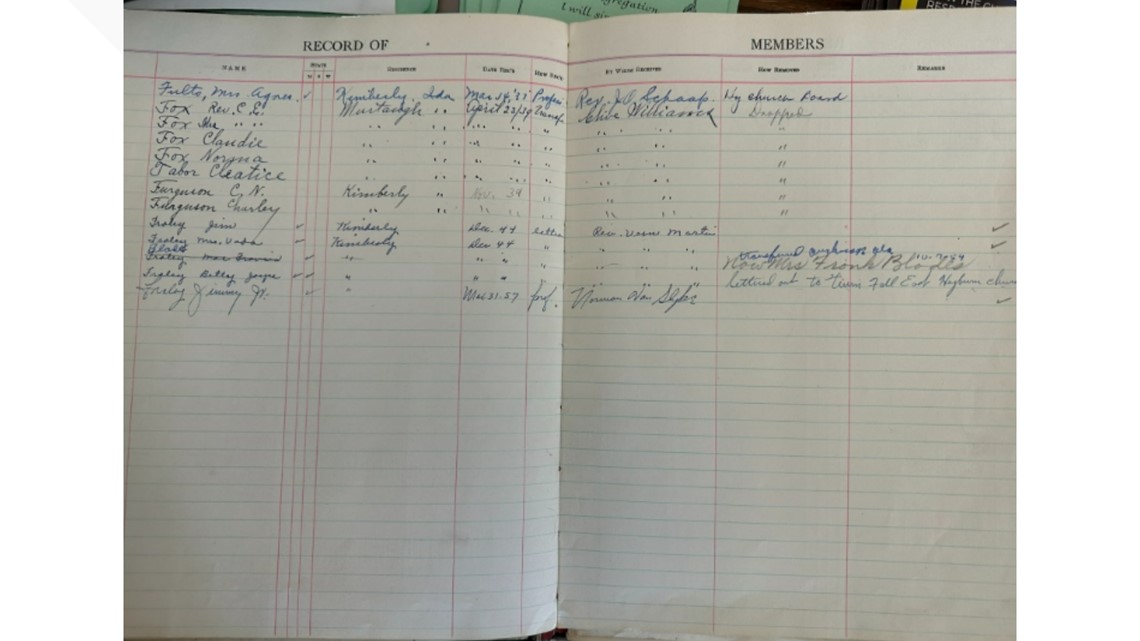 The cousins also found an April 4 1940 US Census, which shows Alton Fults is listed living with his brother, his four daughters and Agnes Fults' sister, Martha Hagerman. Under Alton Fults' marital status, it shows he's married – but living apart from his wife.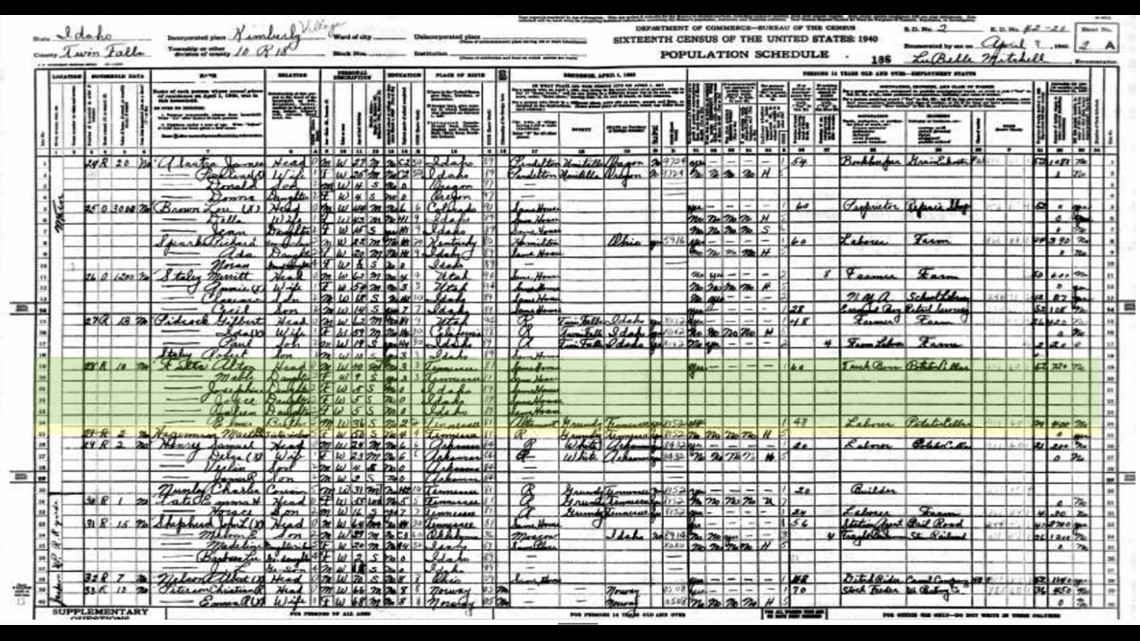 Later that year, Alton Fults registered for the draft. An Oct. 16, 1940 registrar's report shows he was 33 years old, 5 '9, weighed 150 pounds, did not own a phone and worked at a produce company. His emergency contact is not his wife, but his mother, Pearl Fultz. Trotter said the family's last name was spelled both ways in an attempt to further themselves from Germany at the time of the war.
Suspicions rise
:
Rumors ran wild. Secrets weren't so secret.
Like a game of telephone, the Fults family talked.
Julene Fults-Askew's experiences long after her mother's disappearance reached Trotter while she was caring for her in Oregon. She relayed to her granddaughter that Kimberly Police Chief Silas Givens paid her a visit at her home sometime in the 1950's or 1960's.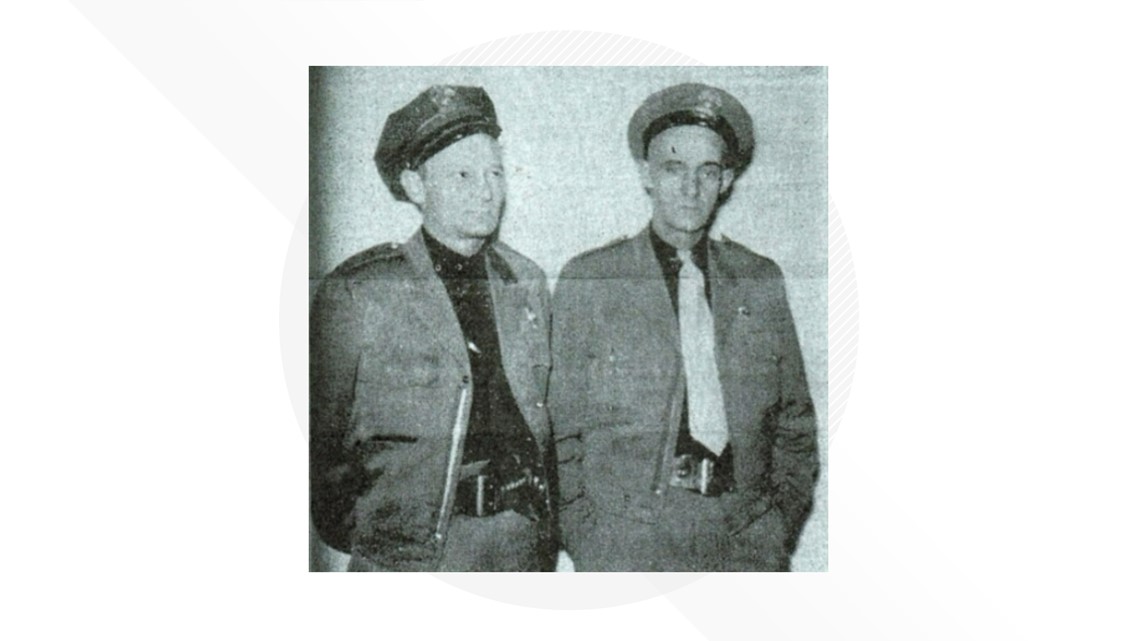 "When Marsha's grandmother was grown and married and had children of her own, the police chief came out to their house and he informed them he wanted her to know that her mother had not run off and left her," Hardesty said. "He believed that a family member had killed her and that she was buried underneath a potato cellar."
Everyone in town had some of the same speculations. Hardesty and Trotter tracked down a woman who belonged to the local church at the time, who is now residing in an assisted living facility. But Hardesty said her memory is as clear as day.
"She knew our grandmothers. She had gone to high school with them in Kimberly," Hardesty said. "She agreed to meet with us, and said every person that she had talked to said the same thing – that the triplets' mother had been killed and buried under a potato cellar."
Trotter said it wasn't just a common secret – it was "an open secret."
The cousins' suspicions only grew when they discovered a newspaper article from Martha Hagerman's 86th birthday in Tennessee.
Hagerman is quoted as saying her sister Agnes Fults "disappeared" leaving a family behind who "never heard from her again."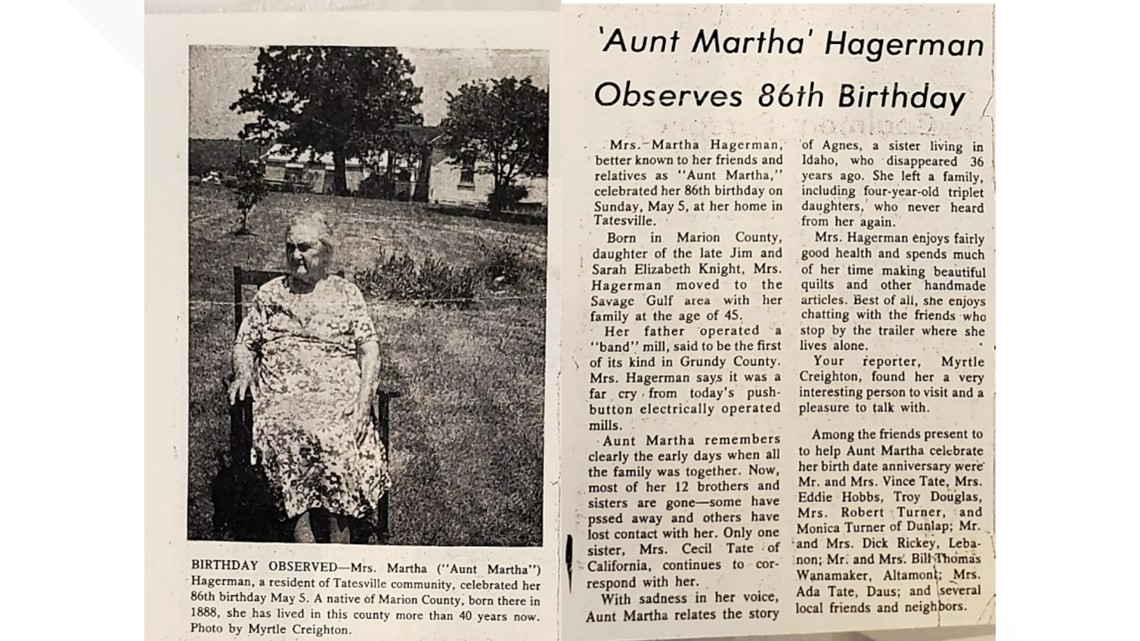 "On Martha's deathbed, she called one of the triplets and told them that she was going to write all four of them a letter and tell them what really happened to their mother. And she never did," Trotter said.
A new case
:
After 84 years, the police department is officially searching for Agnes Fults
The two decided over the summer they would meet up and travel to Idaho. In July, Hardesty flew from Ohio to Oregon, where she met up with Trotter. Together, they drove the eight hours to Kimberly to show the local police department every document, every picture and every piece of paper they had.
"Once we presented the police with that, they informed us that they were opening an official cold case," Trotter said. "For the very first time, someone would be researching what happened to our great grandmother."
Kimberly Police Det. Alex Arrington is now the lead investigator on Agnes Fults' case.
He's been a police officer for 14 years, handling the most basic parking tickets all the way to brutal murder cases. Not much shocks him these days, he said.
When Hardesty and Trotter presented their research to the department, Arrington said it was extremely well-thought out.
"We are very appreciative of the information they were able to bring. It sheds a lot of light into the family's backstory and their history," he said. "So now we do have an open investigation into the whereabouts of Agnes, making us think that either she went somewhere else, or she went missing."
It's a little too early to tell if foul play was involved, Arrington said. But he told KTVB, police will take the information that they have, compare anything that's similar and anything "that's too bizarre."
"We've gone through our records, county records, state records and anything that might have existed that might help us in locating her," Arrington said.
Arrington can't comment on what the police chief may have said back in the 1960's because it's an open investigation – but he can say that based on the information that was brought to him, police have reached out to outside agencies to utilize ground penetrating radar to search "areas of interest."
Hardesty and Trotter said the places in Kimberly planned for radar searching are the areas near the old Fults home, which is no longer standing. The property is an empty, barren lot across from Centennial Park – but those who drive by on Main Street, or Highway 30, can still see the old utilities and pipes sticking up out of the ground.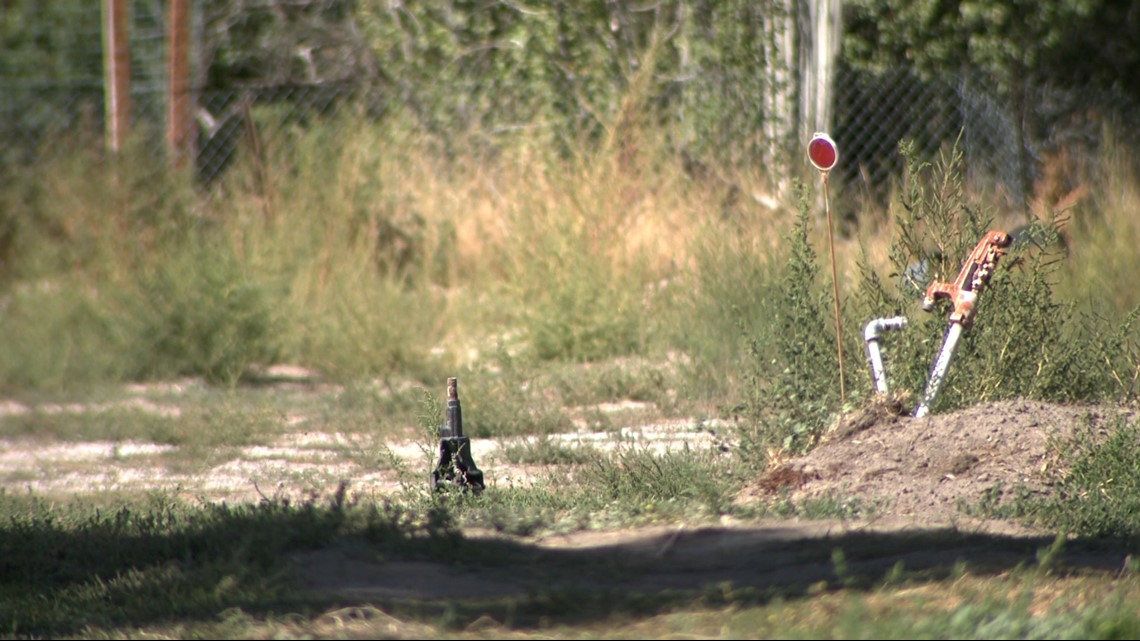 Just feet behind the old Fults' property lies Silas Givens' home at the time, just off Givens Road behind a storage unit near a set of railroad tracks.
Trotter said there are old potato cellars under Centennial Park (right across from the old Fults property), the storage unit and around the area of the railroad tracks.
"You can still see the concrete entrance to one of those potato sellers sticking up from the ground," Trotter said. "The police intend to start ground penetrating sonar work to investigate that area."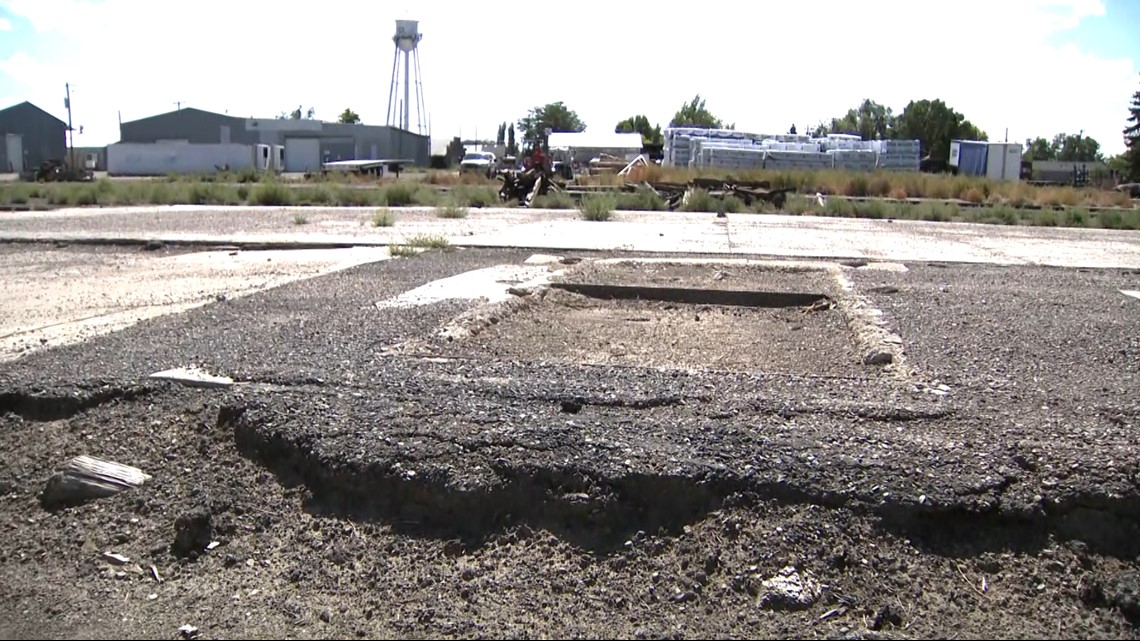 Arrington believes this case is solvable – so there could be hope after 84 years – but it doesn't mean it will be easy.
"I think all cases are solvable. I think it just depends on the effort that you put in," Arrington said. "Time, obviously, is going to take away evidence. It's going to take away witnesses or people who have knowledge… And the further away we get from the incident, I think the harder it gets to solve that."
Family ties
:
It's not about money or attention. It's about a final resting place.
The tragedy in the Fults family left a scar that still impacts Trotter and Hardesty today. Generational trauma is very real, Trotter said, and that has "trickled down."
"My grandmother grew up with a lot of conflicting emotions, remembering that her mother had been a very loving mother… And then being told that her mom didn't love her and her mom and ran away and wasn't coming back. That's a lot for a young child to process. For a very long time, she was angry," Hardesty said. "She thought she wasn't worthy of love. She had a very traumatic marriage – she was in a very abusive marriage. She thought she deserved that."
The two cousins aren't looking for their great-grandmother for any type of financial gain, they said. They're not doing it for attention, either.
They just want to lay her to rest.
"Every newspaper article that that we read talks about how much she loved being a mother, how much she loved her children. Every reporter… Just painted this picture of her as a very loving doting mother," Hardesty said. "And I know that she would want to be laid to rest next to her children."
There is still no death certificate or any signifier that Agnes Fults even died, Trotter said, which is why it's so important to them to close a chapter within their family.
"If we don't find her, then we don't find her. There's nothing we can do about that," Trotter said. "But we will at least know we've done everything we can to try to find our great-grandma and give her a proper burial."
Anyone with any information regarding the Fults family or the disappearance of Clara Agnes Fults can call the Kimberly Police Department at 208-423-4153 ext. 18.


See the latest news from around the Treasure Valley and the Gem State in our YouTube playlist:
HERE ARE MORE WAYS TO GET NEWS FROM KTVB:
Download the KTVB News Mobile App
Apple iOS: Click here to download
Google Play: Click here to download
Stream Live for FREE on ROKU: Add the channel from the ROKU store or by searching 'KTVB'.
Stream Live for FREE on FIRE TV: Search 'KTVB' and click 'Get' to download.