SPOKANE, Wash. – Spokane is booming and nowhere else is that more visible than downtown. New businesses seem to pop up almost daily, and what once was a compact core has grown outward, with sleek shops and restaurants revitalizing formerly run-down spaces and turning Spokane's downtown into a destination.
At the same time, Spokane's homeless population appears to have boomed as well, especially downtown. Longtime residents and business owners say they've never seen so many homeless people sleeping on streets, or camping in tents and cars.
"Within the last year it's just getting worse and worse and worse. Yesterday I had people living out of my dumpster," said longtime Spokane resident Rita Santillanes. "It's just getting more dangerous."
Santillanes owns the Peppertree Hospitality Group, which has its corporate office on West 3rd Avenue and South Division Street. She's lived in Spokane for 20 years but said she only recently started feeling unsafe working downtown.
"I am afraid to walk out after dark. We walk out in groups now, or we have pepper spray in our purses," she said.
At the Rocket Bakery on North Wall Street, manager and Spokane native Kiersten Hines says she's also noticed more homeless residents near her store, which shares a space with a local STCU branch. She says the store recently had to make the bathroom private for customers only, and non-customers are not allowed to hang out inside.
"It's a hard balance because we do have sympathy and we do care and we want them to get the help they need, but we also want to maintain a level of peace here as well," Hines said.
The situation isn't any better for homeless residents.
"It's terrifying, it's terrifying," said Terri Coones, a homeless woman in her late 50s who KREM found camping underneath a downtown bridge. She said she moved to Spokane in 2008 and has been homeless for about five years.
"I didn't get any sleep. I was harassed all night," Coones said when KREM asked her how she was doing. "When you start getting moved around, it's usually a process. You get picked on."
Barb, a homeless woman who lives with her dog Sissy, said being homeless in the winter is something "you can't describe."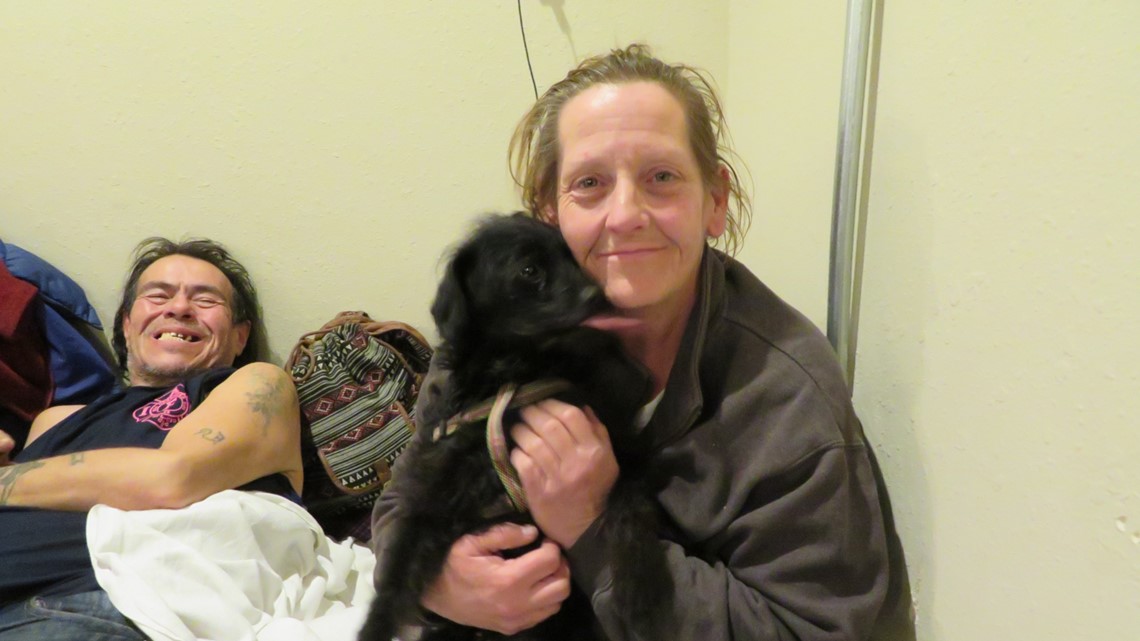 "It's scary to be outside and have to sleep," she said. "I don't sleep most of the time."
Spokane's homeless population has not actually grown all that much in the last five years. In 2014, the annual point-in-time homeless count found about 1,150 homeless people sleeping outside or in shelters. In 2018, that number was about 1,250.
What has changed in the last few months is a longtime shelter closing and a suspended city policy, both of which some say led to more people spending their days and nights in downtown Spokane.
Closing House of Charity 24/7 Shelter
A year ago, the House of Charity 24/7 shelter in downtown Spokane housed about 300 homeless people each night. The shelter was designed to sleep about a third as many people, and the nightly influx was wearing thin on staff, volunteers, and the neighborhood.
The shelter also put people at risk of predatory behavior, according to Spokane Mayor David Condon.
"It's not people-first," he said. "As you get to the numbers that is, unfortunately, it re-victimizes the most vulnerable."
So the shelter and the city announced that by September it would reduce capacity by about 150 beds and no longer be open to residents around the clock.
But without the House of Charity, many residents were left without a good option for emergency shelter just as the weather turned cold. The city found itself without enough warming shelter beds this winter, which triggered another change that brought even more homeless residents downtown and onto streets.
Suspension of Sit-Lie Ordinance
Spokane's sit-lie ordinance prohibits people from sitting or lying down on city streets between 6 a.m. and midnight. The ordinance targets the city's homeless population, in an effort to stop people from camping out downtown.
The city can't enforce sit-lie, however, if there aren't enough shelter beds for homeless people to stay in. If the city can't offer homeless people a place to sleep, then they are able to sleep outside.
Reducing capacity at the House of Charity did just that. Without enough other shelter space to replace all of those beds, a federal appeals court ruled that the city can't prosecute people for sleeping on the streets.
So the sit-lie ordinance was suspended until the city could come up with 200 more beds for its homeless residents.
By the winter of 2018, Spokane not only had hundreds of homeless people who no longer had a bed to sleep in, but those residents could instead camp downtown and no one could tell them to move.
Mayor, city council rush to add beds
The changes not only brought more visible homelessness downtown, but also prompted protests, as homeless people and advocates chained together and set up tents in front of city hall.
Protesters demanded the city repeal sit-lie, and add another 24/7 shelter to replace House of Charity.
Although the protesters were eventually cleared from outside city hall, the city council also quickly approved more than $250,000 to add additional warming shelter beds.
The city is now on track to open enough new shelter spaces by Feb. 8. The sit-lie ordinance will be reinstated, and theoretically, enough shelter space will be available to counteract House of Charity's reductions.
For this winter, at least, the city now has enough temporary beds for homeless at night.
This summer, another shelter to replace the House of Charity is planned. Envision Center, a resource for homeless people to connect with services, will also open soon.
"The city is making a concerted effort to open another shelter by July 1 so that when these warming shelters close, there is another option, because we did take away those 150 beds at the House of Charity," said City Council President Ben Stuckart.
But time will tell whether the changes are enough to reduce the conflict between Spokane's booming downtown and its homeless residents, and provide enough space for people to sleep at night when the weather turns cold again next year.
For business owners and homeless people, the city's actions are moving in the right direction, but they say the city needs to do more.
"Bottom line it comes down to: Whose rights are more important? I'm paying the taxes that hopefully will generate enough money to help these people who are on the street. And I just want to feel safe," said Rita Santillanes.
Santillanes suggests the city fund more police officers, something that a measure on the Feb. 12 ballot could change. She said during a recent visit to Seattle, she felt safe downtown because of an enhanced police presence.
"I did not feel unsafe because every time I turned around there was a police officer, so I felt secure, I felt safe, but we don't have that here. I mean, I won't walk to lunch in the good weather," she said.
Barb, who KREM met at a warming shelter on a recent cold winter night, said she became homeless because of the cost of housing. And she says affordable housing is what the city needs to invest in, to make a real dent in homelessness.
The city and Catholic Charities have already invested in apartment complexes to help chronically homeless people in Spokane. The Donna Hanson Haven apartment complex opened in late 2017 with about 50 units. Two more complexes that will house 100 residents are under construction.
That housing is not without criticism. Santillanes said she's noticed a negative impact at her corporate office since the Donna Hanson Haven opened nearby.
"That really changed what was happening around here," she said. "I don't know what the situation is, but it made for a lot of scarier situations here on this piece of property."
For people on the street, however, the scarier situation is life outside.
"It's hard. It's really hard," Barb said. "I think the hardest part is the looks – you know, the words you get from people. They think that I chose this as a lifestyle when I didn't. Circumstances happen to certain people, you know, and they end up in a place like this."
Mark Hanrahan contributed to this report.