SPOKANE, Wash. — Spokane County can officially enter Phase 2 after Washington state approved the county's application for reopening.
"Spokane is open for business," Spokane Mayor Nadine Woodward said.
Woodward said the actions of Spokane County residents will now determine how quickly we can move to the next phase of reopening, Phase 3.
"We need to even more follow the measures that got us to this place in the first place," she said, emphasizing the importance of social distancing and wearing masks.
Phase 2 will begin immediately.
Phase 2 allows more outdoor recreation, such as camping. Spiritual gatherings are also allowed. Small group gatherings of five people or less are also allowed.
Phase 2 also paves the way for many more businesses to reopen at reduced capacities.
"This has been an extinction level event for our local businesses," said Spokane County Commissioner Josh Kerns.
Barbershops and salons can reopen in Phase 2, along with restaurants at 50% capacity and tables of five people or less. Bar seating is not allowed. Pet services, including grooming, can resume.
Some professional services can resume, although teleworking will still be encouraged. Limited non-essential travel within the proximity of your home is allowed.
Compliance with Phase 2 reopening guidelines will be voluntary in Spokane County, according to Spokane Mayor Nadine Woodward.

"We have always been operating under the approach of education over citation with businesses that are opening and with patrons who are going out into the community and frequenting businesses," Woodward said. "This is all about taking personal responsibility and voluntary compliance."
Woodward said she understands there are some residents in the county who are not ready to resume public life.
"Just know that our proposal is very measured, it's balanced, and it's considerate of those people," she added.
The mayor asked people to comply with protocols and best practices at businesses as they reopen, including wearing masks and practice social distancing.
"We don't want to go backwards in any of the work that we've done so far. We want to get to Phase 3. That's our goal," she said.
In recent days Spokane County has seen an increase in coronavirus cases that exceed the amount allowed to stay in Phase 2. However, leaders aren't concerned that it will push the county back into Phase 1.
The health district said they expect case numbers to rise as more tests are conducted. SRHD says they'll focus on contact tracing as a marker to ensure the virus is being contained.
Counties are eligible to apply for Phase 2 of reopening if they have less than 10 new cases per 100,000 residents over a 14-day span.
The guidelines are consistent with those from the Centers for Disease Control and Prevention for opening regions nationwide, Inslee said.
Twenty-two counties are now eligible for a variance upon application, which represents 30% of the state's population. Counties can either move to Phase 2 with all businesses and activities included reopening or a subset of them, Inslee added.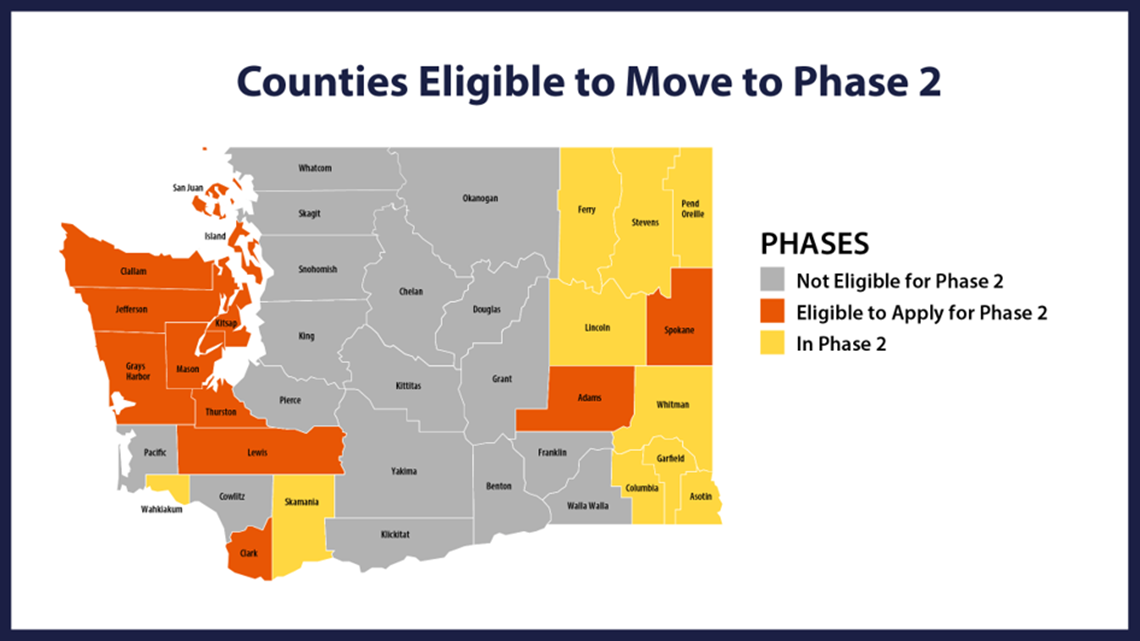 The application criteria includes the local public health officer's recommendation; a vote from the Board of Health; letters of hospitals confirming bed capacity; a vote from the Board of County Commissioners; testing data and information; local capacity to case and contact trace; isolation and quarantine information; and local capacity to perform outbreak investigations.