SEATTLE — Washington's indoor mask mandate will expire for most public settings on March 21.
Masks will no longer be required in schools, childcare facilities, bars and restaurants, churches, gyms, grocery stores or retail and business establishments, per new guidelines handed down by Gov. Jay Inslee's office Thursday.
Masks will still be required in some settings, like hospitals, outpatient and dental offices, long-term care settings and correctional facilities. Federal law also requires masks be worn on public transportation and school buses.
In addition, the state will stop requiring proof of vaccination or a negative COVID-19 test for entry to large events beginning on March 1.
Inslee's office selected the date to ease the mask mandate based on declining COVID-19 projections, with forecasts showing Washington will likely reach the state's goal of five hospitalizations per 100,000 people on March 21.
The state's current hospitalization rate is around 22 per 100,000 people, according to state data.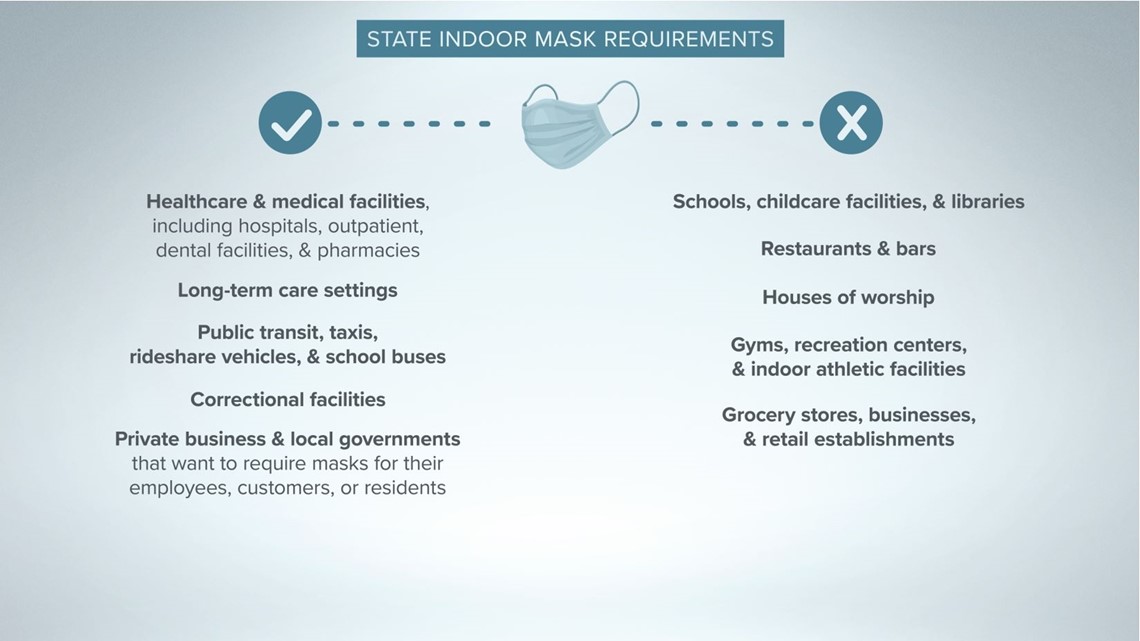 "At that level of hospital admissions, the hospitals will be able to have relatively normal functions," Inslee said.
Local governments still have the authority to implement their own face mask or vaccination requirements for workers or customers, and school districts can still choose to mandate that students and teachers wear masks, according to state guidelines.
Washington's indoor mask mandate has been in place since Aug. 23, 2021. Earlier this month, the governor repealed an outdoor mask mandate implemented in September for events with 500 or more people.
Inslee previously stopped short of repealing the indoor mask mandate, making Washington one of the last state's in the country to have one in effect. At a Feb. 9 press conference, the governor said he wanted one more week of data to get a sense of where the COVID situation would be in March.
Oregon, Illinois and Hawaii still have indoor mask mandates in effect, although last week, Oregon announced its indoor mask requirements would lift by March 31 at the latest. Earlier on Thursday, New Mexico repealed its mask mandate effective immediately.
California lifted its indoor mask mandate for vaccinated people Wednesday. However, unvaccinated Californians must still wear masks.
Updated COVID-19 guidance for schools
COVID-19 guidance for K-12 schools will also be updated in early March by the Department of Health (DOH). Current requirements regarding distance, ventilation and sanitation in schools will be downgraded to recommendations. The guidance will be released on March 7 and go into effect on March 21.
Last week when Inslee said he would be ending the mask mandate in schools, the state's largest teachers' union, the Washington Education Association (WEA), pushed back.
President Larry Delaney said ending the mask mandate too early could cause more cases and staff shortages.
Following Thursday's announcement however, Delaney said the WEA supported the Governor's decision to end the mandate in schools March 21.
In a statement, Delaney said the teachers are okay with the rollback because it's more than a month away:
Since the beginning of the pandemic, WEA has supported following the advice of public health experts. Now, those experts have recommended a timeline for the lifting of the school mask mandate. Front-line educators see the challenges that we must address to have a smooth transition. We are pleased that districts will have adequate time to anticipate issues with staffing adequacy and inequities along with mask access for those who want them. We call on the legislature to create an adequate leave pool for those who may become ill or have to quarantine, and we ask our communities to continue taking every reasonable COVID precaution to help sustain unmasked teaching and learning.
None of us have gone through a transition from a pandemic to an endemic. WEA is heartened that as we emerge from the pandemic we can unite with our communities to continue to advocate for high-quality, equitable public schools.