OLYMPIA, Wash. — More counties are eligible to apply for Phase 2 of Washington state's four-phase recovery plan, Gov. Jay Inslee announced Tuesday.
Newly eligible counties that can apply for Phase 2 include: Spokane, Adams, Mason, Thurston, Lewis, Clark, Clallam, Kitsap, Island, and San Juan.
The eligibility comes from new criteria, based on guidelines from the Centers of Disease Control, according to the state Department of Health. Counties are now eligible to apply if they have fewer than 10 new cases per 100,000 residents over a 14-day span, the agency said.
Asotin, Columbia, Garfield, Lincoln, Ferry, Pend Oreille, Skamania, Stevens, Wahkiakum, and Whitman counties have been approved.
Phase 2 allows for increased outdoor recreation, such as camping. Small group gatherings of five people or fewer are allowed.
Barbershops and salons can reopen along with restaurants at 50% capacity and tables of five people or less. Pet services, including grooming, can resume. Some professional services can resume, although teleworking will still be encouraged.
Limited non-essential travel within the proximity of your home would be allowed.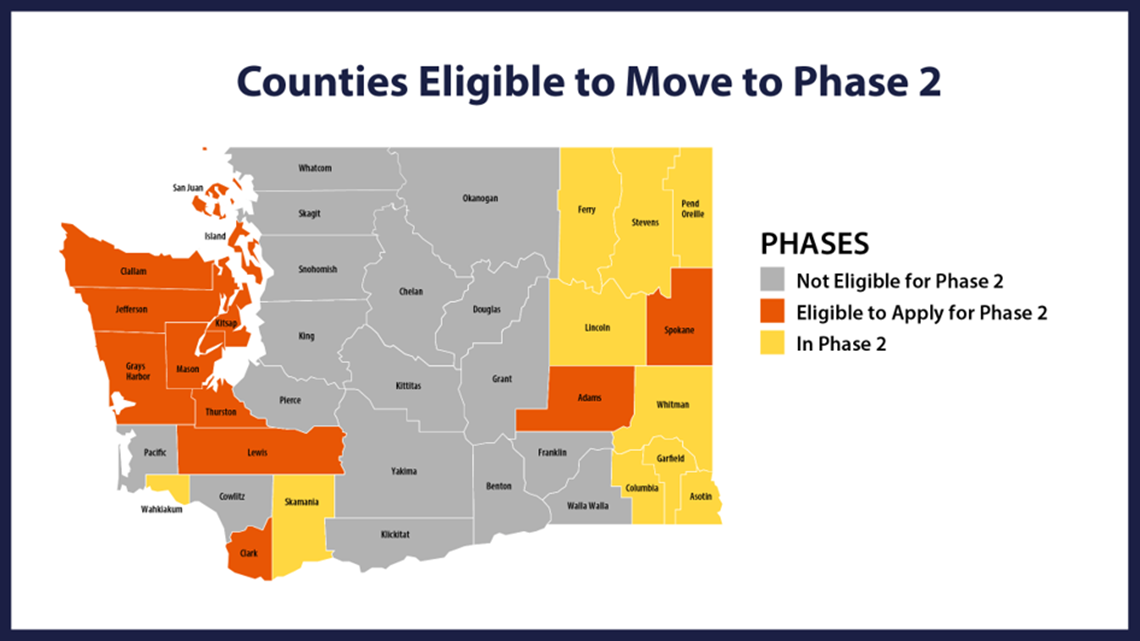 Larger counties have not yet met the criteria to move forward to Phase 2. The governor said there was reason for optimism in the larger counties, but still not enough progress.
For instance, in Snohomish County, the public health department reported an average of 23 daily positive tests since the start of this month. The county has 820,000 residents, and would therefore need to have around 80 cases over a two week period to meet the governor's threshold.
This was a blow to local businesses eager to reopen and welcome back customers.
"We're a little disappointed, we don't fully understand when the opening is going to come at this point," said John Lundin of Bluewater Organic Distilling, on the Everett waterfront.
His bistro and distillery business has adapted since the start of the crisis, offering takeout and drinks to-go.
He says his business has a plan to expand outdoor seating, at a social distance, to maximize their waterfront location and revenue.
"Phase 2 would be a game changer," Lundin said.
Still, Lundin says he supports the governor's cautious approach to reopening, even if it may take a few days longer than previously expected.
"We will raise a glass," he said, with a laugh. "Yeah, we will."
No timeline for Phase 3
Though the state will potentially increase the number of counties being moved to Phase 2, there is no timeline on when Phase 3 will begin.
The decision on when and how to do that "have not yet been made," Secretary of Health John Wiesman included in the COVID-19 County Variance Plan. "That information will be determined in the next two to three weeks."
Phase 3 will loosen restrictions more by allowing group sizes of 50 people, non-essential travel, and gyms and recreational facilities to reopen. Restaurants could increase capacity to 75%. Bars could open to 25% capacity.