Where does Spokane County, Eastern Washington and North Idaho stand when it comes to coronavirus cases, deaths and COVID-19 testing? This article is updated daily with new information, charts and analysis.
Many counties around the Inland Northwest have begun the process of reopening their economies. Idaho may begin phase three of its reopening plan, and Spokane just entered phase two of Washington's reopening plan before Memorial Day weekend.
Although the phases of reopening come as a relief to many, counties still have to stay under a certain number of cases every two weeks to stay open.
How are they faring?
Let's look at the case numbers as of Monday, May 25:
Spokane County:
According to the Spokane Regional Health District there are 497 cases in Spokane County and 31 deaths. That is an increase of 37 cases compared to Friday, May 22.
Seven people remain hospitalized. A total of 78 people have been hospitalized from coronavirus in Spokane County since the outbreak began.
Around 73.6% of all coronavirus cases in Spokane County have recovered, according to SRHD.
New cases in a two week period:
Over the course of two weeks the number of coronavirus cases in Spokane county have risen by a total of 101 cases according to Spokane Regional Health District data.
KREM
The new guidelines for reopening state that Spokane can't have more than 10 cases of the coronavirus per 100 thousand people over a two-week period. For Spokane County, that means if there are more than 50 new COVID-19 cases within a span of two weeks, the county will move back to Phase 1.
Many are wondering, with that increase in cases, will Spokane be able to stay in Phase 2?
Although there have been a substantial increase in cases, 68 in just the past four days, the Spokane Regional Health District doesn't believe the increase is due to community spread.
A "cluster outbreak" is responsible for some of the double digit case increases Spokane County has seen over the past week. The cluster outbreak itself led to an increase in testing, which led to more positive tests.
RELATED: Philadelphia Macaroni Company announces 31 coronavirus cases at Spokane plant
According to SRHD spokesperson Kelli Hawkins, the outbreak was among a specific group of people and health officials aren't worried about seeing community spread from the cluster.
"We have seen a spike, but the most important thing is that's not community spread," Hawkins said. "We have a contained cluster that our contact tracers are investigating."
Dr. Bob Lutz, Spokane County Health Officer said, "When we investigate positive cases, the result of reaching out to those who came in close contact is an increase in testing and possible discovery of more positive cases, many of whom may not have symptoms. They now know to self-quarantine to help keep others in our community healthy."
The Spokane Regional Health District explained, that although the rise in cases may be over the threshold, the state is placing a greater emphasis on contact tracing, and hospital capacity to judge a county's readiness to reopen.
RELATED: Spokane county reports 18 new cases bringing total to 487 confirmed coronavirus cases
Hospital surge capacity:
In order to enter Phase 2, Spokane County was required to have surge capacity in area hospitals. According to the United States Department of Health, surge capacity "refers to the ability to evaluate and care for a markedly increased volume of patients—one that challenges or exceeds normal operating capacity."
Local Providence and Medicare hospitals submitted letters in Spokane County's reopening application confirming that their facilities have adequate stocks of PPE and the room to care for a surge in patients should an outbreak occur.
Hospitalizations have slowed dramatically from March and April into May. Many days have gone by without any new hospitalizations due to the coronavirus.
You can see how many people were admitted to the hospital each day in the graph below:
KREM
As of right now, there are seven people in the hospital in Spokane County due to the coronavirus.
Over the course of the outbreak in Spokane County, a total of 74 people have been hospitalized.
Counties in Eastern Washington that have reopened or applied:
A majority of the counties that have already proceeded to Phase 2 of Washington's reopening plan are in Eastern Washington.
Office of Gov. Jay Inslee
Along with Spokane County, Grant County is now eligible to apply for a Phase 2 variance.
Ferry, Stevens, Pend Orielle, Lincoln, Whitman, Garfield, Columbia and Asotin are already in Phase 2, along with two counties in Western Washington, Skamania and Wahkiakum counties.
Ferry, Pend Orielle and Garfield County qualified for the variance because they have a population of less than 75,000, very low case numbers and no positive COVID-19 cases within the last three weeks.
Whitman County has had documented cases of the coronavirus within the last three weeks, but the Governor's office is allowing counties with less than 75 thousand to reopen if they have demonstrated hospital surge capacity and an adequate stock of PPE.
RELATED: Why Grant County isn't yet elligible for Phase 2 of reopening
Here's a look at case numbers in counties around Eastern Washington:
Adams County: 53 cases, 0 deaths
Asotin County: 18 cases, 2 deaths
Benton County: 696 cases, 59 deaths
Columbia County: 1 case, 0 deaths
Douglas County: 157 cases, 3 deaths
Ferry County: 1 case, 0 deaths
Franklin County: 499 cases, 19 deaths
Garfield County: 0 cases, 0 deaths
Grant County: 190 cases, 4 deaths
Klickitat County: 24 cases, 3 deaths
Kittitas County: 72 cases, 0 deaths
Lincoln County: 2 cases, 0 deaths
Okanogan County: 43 cases, 1 death. 11 of these cases are on the Colville Indian Reservation.
Pend Orielle County: 3 cases, 0 deaths
Stevens County: 10 cases, 1 death
Whitman County: 19 cases, 0 deaths
Yakima County: 2,812 cases, 87 deaths
For a list of case numbers by county, check here.
Washington State:
The state Department of Health is reporting 1,061 deaths among 19,828 overall cases in Washington.
326,593 people in Washington have taken a test for coronavirus and 6.1% of those tests have been positive, according to the state Department of Health.
Washington began phase one of its reopening plan in early May, paving the way for businesses in the state to reopen, with restrictions.
Most recently, all healthcare services were allowed to re-open, including dentist offices, as long as they follow health and safety protocols.
In Phase 1, places like golf courses can begin operations again with a social distancing plan in place. For example, golf courses are only allowing two players per group unless you are all from the same household.
Outdoor activities like golfing and fishing can recommence, but people will have to take extra precautions.
Phase 1 also includes existing construction that meets the state's criteria, landscaping, auto dealerships, retail stores with curbside pickup only, car washes, and pet walkers.
Moving on to phase two depends on coronavirus cases continuing to decrease. If there's a spike in cases, restrictions could be put back in place.
In the past , Washington state has made progress in fighting the coronavirus pandemic. Governor Inslee released an updated dashboard showing where Washington improved. You can see that here compared to the graphs that were released this month:
Washington's progress against the coronavirus this week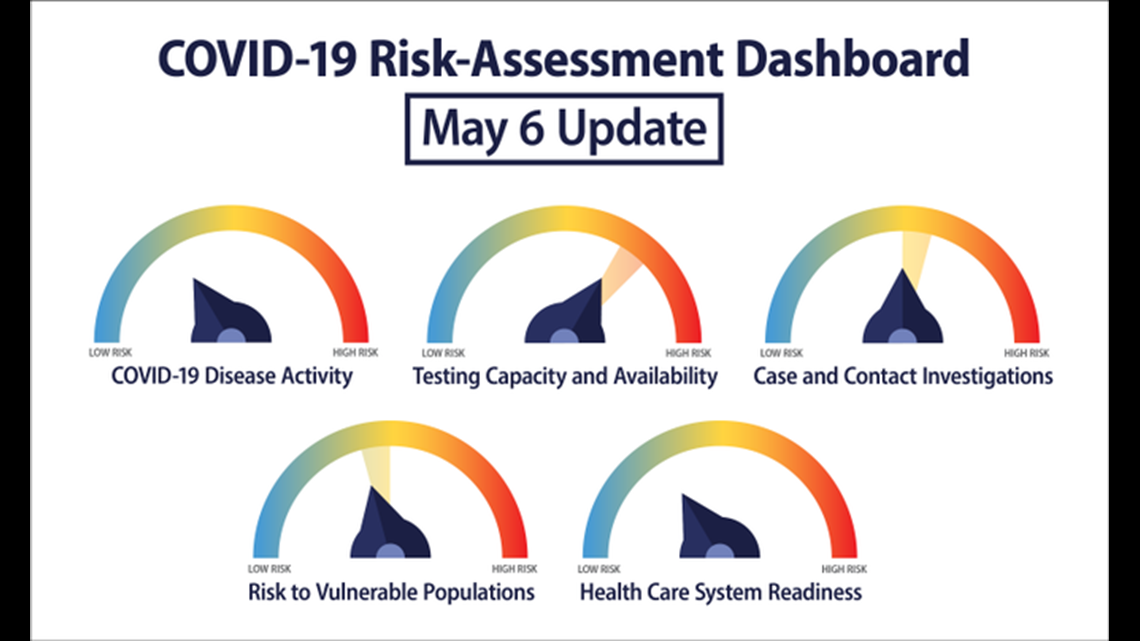 Here's where Washington improved:
Testing capacity: According to the Governor's Medium website, Washington has reached a record level of testing capacity since the virus started. "Daily testing capacity continues to improve, hitting 6,000 per day for the first time recently... Additionally, testing positivity rate has decreased to around 5%, reflecting an increase in testing availability."
Case and contact investigations: The state said it has made progress in hiring and training new workers to manage case and contact tracing. The governor's Medium post says "as more people come on board, there is reason for optimism that this trend will continue."
Risk to vulnerable populations: The improvement of this area reflects improvements in protections for long-term care facilities. The governor's Medium post says "these results give a slight improvement from last week, but there is still work to be done to understand and address impacts to other vulnerable communities."
Idaho
Idaho is currently in Phase 2 of their reopening plan- and the Gem state may move on to Phase 3 before the month is out.
However, in order to move on to Phase 3, Idaho needs to keep meeting the criteria for Phase 2 until the end of the month.
Here are the numbers:
2,626 cases
31 cases confirmed and probable since yesterday
79 deaths
Here are the numbers for North Idaho in particular:
Kootenai County: 66 cases
Bonner County: 4 cases
Benewah County: 1 case
No deaths
According to the Rebound Idaho website there needs to be a decrease, or a very low number of people visiting the emergency room with coronavirus like symptoms in a fourteen day period.
For the most part, Idaho has met that benchmark, with an overall downward trend of emergency room visits for people with COVID-19 like symptoms.
There have been brief spikes in visits throughout the month of May, however it's still a dramatic decrease from March, which saw spikes of 70 to 86 visits per day of patients with COVID like illness.
Idaho State Department of Health
In order to move on to Phase 3, the number of people testing positive for coronavirus also needs to decrease in Idaho.
Overall, Idaho is meeting this benchmark:
Idaho State Department of Health
Currently, 3.7% of tests in Idaho come back positive. At it's height, the percentage of positive tests was at 7.1%.
Lastly, hospitals need to have the capacity to treat all their patients without going into crisis care, and they need to have enough personal protective equipment, ventilators, and beds. The state also wants enough tests available to treat healthcare workers.
Overall, Idaho's supply of ICU beds and ventilators far outweighs the demand.
You can see here the amount of available beds, represented by the dark blue bar, and ventilators, represented by the light blue bar, in comparison to the minimum amount Idaho's Rebound plan requires, represented by the orange line:
KREM
KING 5 and KTVB staff contributed to this report.
RELATED: Health leaders are asking Gov. Inslee to reopen Spokane sooner
RELATED: More Washington counties can move to second phase of reopening before state