SPOKANE, Wash. — Gov. Jay Inslee announced on Wednesday that he is easing restrictions for religious gatherings in Washington state.
"We know that people treasure religious gatherings, so this has been a difficult issue of how we simultaneously defeat this virus and maintain our congregations," Inslee said during a press conference.
In Phase 1 of the state's reopening plan, churches can offer outdoor religious services with up to 100 people present. Social distancing and face coverings are required.
Indoor religious services can be held at 25% capacity or with fewer than 50 individuals, whichever is less, in Phase 2. This includes churches in Spokane County.
In-home services or counseling at a person's home can also resume with 5 people or less during Phase 2.
Inslee is still strongly encouraging churches in the state to provide remote services whenever possible.
Parishioners and church staff need to wear face coverings and follow physical distancing guidelines, including six feet between seats and pews, Inslee said. Churches should also clean and sanitize frequently, educate employees about COVID-19 and provide protective gear to staff as appropriate.
Inslee said he is also encouraging congregations to maintain a voluntary log of attendees at services to help with contact tracing if an outbreak does occur.
These new guidelines refer to all religious and worship services, including religious ceremonies, weddings, and funerals.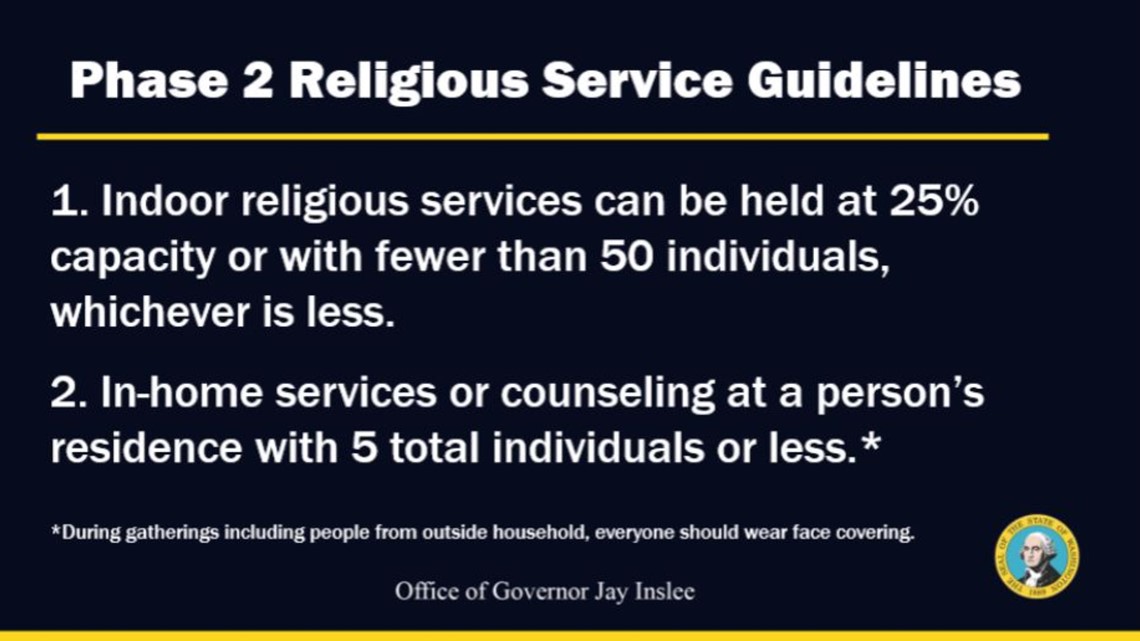 Catholic Bishops in Washington state recently said they were preparing parishes to reopen.
"Based on expert guidance from the United States Conference of Catholic Bishops, the Thomistic Institute and public health experts, we created practical guidelines outlining how we can safely return to public worship, while ensuring reverence and respect for the Sacred Liturgy of the Mass," a statement from the Catholic Conference reads.
The statement is signed by Most Rev. Thomas Daly, Bishop of Spokane, and other bishops in the state.
President Trump said on Friday that churches and other houses of worship should be considered essential, and allowed to open during the coronavirus pandemic. During a press briefing, he announced that governors should let places of worship to open "right now," because the country needs more prayer.
Bishop Daly said on Twitter that the president's sentiments were "welcome to many people of faith," but called them unrealistic.
"I will continue consulting with local health experts and the bishops of Washington State as the final adjustments are made to our plan which will allow us to worship in a responsible manner," Bishop Daly wrote on Friday. "We are close to reopening, please continue to be patient."