Inslee arrived at the school for a tour at about 11:40 a.m. on Tuesday and spoke with media afterward. The tour included stops in several classrooms and a listening session with the governor and teachers, staff and school leadership.
In a tweet sent during the visit, Inslee said "educators are doing great work getting students back in the classroom safely." Spokane Mayor Nadine Woodward and Spokane Public Schools Superintendent Adam Swinyard also joined Inslee for the visit.
Inslee said his main takeaway from the tour is that hybrid learning and a safe return to school are possible if everyone works together. Teachers shared with him that they are glad to be be back in-person and explained challenges they faced with virtual learning.
"I felt really confident because I thought our admin team made our protocols very clear for us," said Daniele Bower, a teacher for first and second grades, about returning to the classroom. "So before the kids ever even came into the building, I felt like I had a really clear understanding of what was expected of me and the kids."
PHOTOS: Gov. Inslee visits Stevens Elementary School in Spokane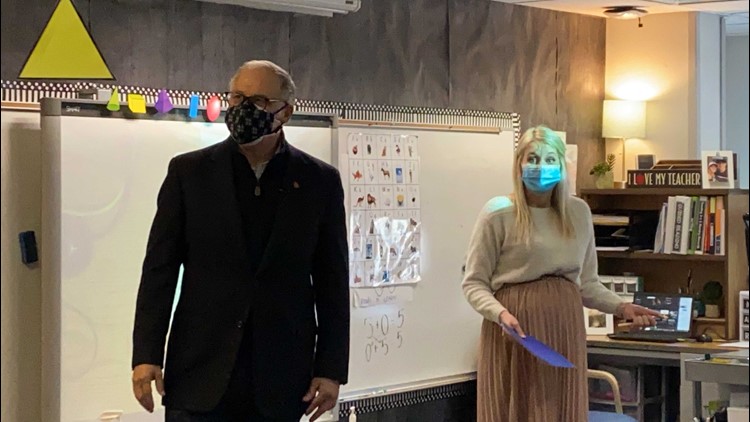 Spokane Public Schools' plan to bring back students to the classroom included fifth-and sixth-graders starting in a hybrid model on Feb. 17. Phase three of the district's plan would bring middle and high schoolers back with a hybrid model on March 1. The district has to satisfy a set of criteria, including contact tracing, two-week evaluation periods between bringing grades back and cleaning and sanitary protocols, to bring students back into classrooms.
During his visit, Inslee also named some as the "most inspirational Washingtonian of the day." He chose Jessie Jones from Stevens Elementary and gifted him with the Governor's Washington apple pin.