SPOKANE COUNTY, Wash. — For the first time in 40 years, Spokane Public Schools may be seriously considering major changes to school boundaries. The overhaul would impact thousands of local families.
In the discussion on Wednesday, school board members heard concerns from community members. Many parents choose a home based on the schools in the area. Well now, some parents are worried their choice will no longer matter.
As growth in the city has changed, school enrollment numbers shifted. This has led to dramatic differences in school sizes. The district is adding three new middle schools, thus moving to a 6-8 grade middle school configuration. To help accommodate this growth, they created the Boundary Adjustment Committee.
SPS said boundary adjustments are needed to support changes in grade configurations, relieve overcrowding and accommodate student growth throughout the district.
It's been five years in the making, but the changes could last a lifetime. Spokane Public Schools Board President Jerrall Haynes said boundary adjustments are needed to not only alleviate overcrowding in the school system, but also reevaluate how the district fights for inclusion.
"Major systems, school districts, cities, counties, and state governments have historically drawn boundary lines around socioeconomics and political party lines," Haynes said. "And at every turn, students of color and families of poverty have borne the brunt in the weight of those decisions."
Haynes added that the current SPS Board is the most diverse board in the district's history. Historically, decisions like this have been made for minorities, he said.
One data point the committee used to create draft boundary maps is the percentage of families at each school who qualify for free and reduced-price lunch (FRPL), the Board said. These numbers reflect only the families who live within the physical boundaries of each school, and were used to provide a baseline for planning.
Depending on how many students choice-in to any given school, FRPL can shift from year to year. The ongoing pandemic and recession are also likely to skew the numbers this year, they added.
"Rogers sports one of the highest poverty rates in the entire state of Washington and is Spokane Public Schools' most diverse high school," Haynes said. "And yet, they're about to graduate over 90% of their students during a pandemic. They are proving in real time what it looks like to fund schools equitably and make sure every one of our students is receiving the supports that they need in order to be successful."
More than 80% of students at Rogers High School qualify for FRPL, according to Director of Secondary Schools Shawn Jordan. The number of students using FRPL can help schools qualify for federal and state funds, like the Title 1 program, which provide additional resources. When a school's FRPL rate increases, they gain more supports in relation to that need, the Board said.
Schools with more students can offer more electives, classes, and programs, both in type and number, Haynes said. By creating similar enrollment among schools, they can provide more equity in class and program offerings. The proposed boundary adjustments shift several hundred students from south schools to north schools in order to achieve this balanced enrollment and support program equity.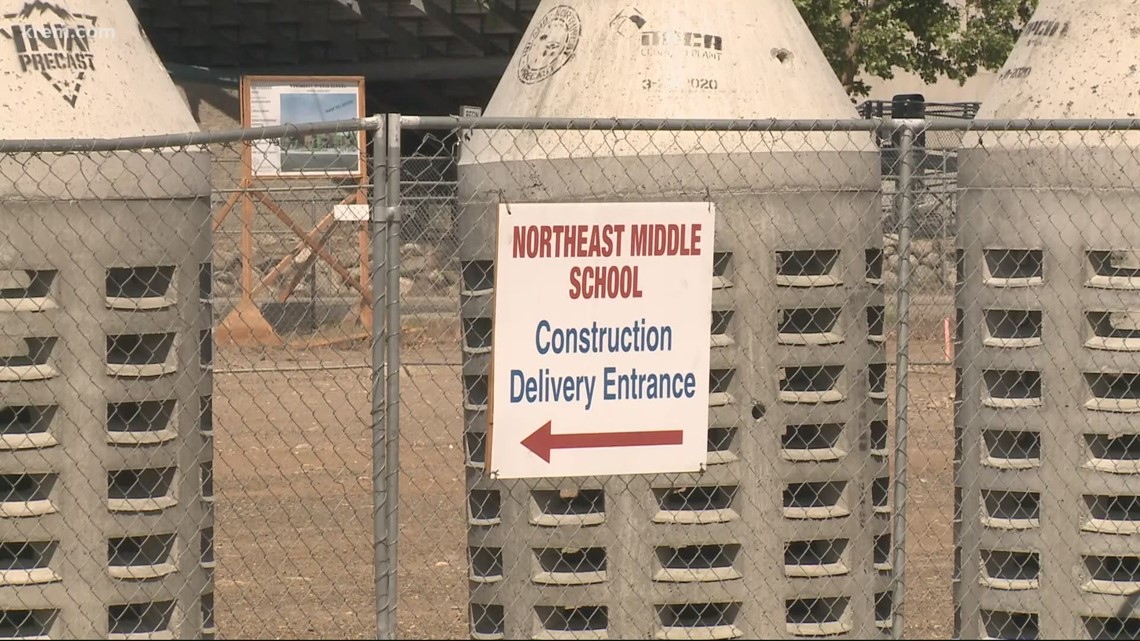 When school districts try to manipulate populations through bussing, it is often high poverty students who are disproportionately impacted, he said. This puts families at a disadvantage, both in terms of the time it requires students get to and from school and loss of access to neighborhood school staff and resources. They use FRPL at Rogers High School as an example. 265 Rogers students (20% of the student body) would need to be bussed to higher-income schools and 390 students in higher-income schools would need to be bussed to Rogers, according to the boundary FAQ page.
The ideas weren't enough for some. Community members said that it seems good in theory, but doesn't address many problems of integrating kids into different schools and classes. Lindsey Shaw is a committee member, but says she has been left feeling underwhelmed with the proposals made.
"I am frustrated with the lack of consideration for not only equity," she said. "I didn't feel like it was balanced, I didn't feel like we had enough time to explore options."
Shaw and three of the four other community speakers all focused on continuous concerns of making sure the boundaries are fair.
"It's hard when you're hearing from somebody that was part of the process [who] felt like the process didn't happen properly," another community member said. "The process didn't happen properly, and I would hope that you all would think too like, 'wow, why is this person who was on the committee feeling this way?'
"They would think about getting back to work, sending this committee, or a new committee, back to work and coming up with a better solution."
The Board said they understood and addressed equity concerns for the remainder of the meeting. Dir. Nikki Lockwood has been leading the charge for equity, and Dir. Jenny Slagle helped facilitate the discussion following the community comments. The Board will be looking into further adjustments before the next meeting.
The committee said 8% of elementary, 42% of middle and 22% of of high school students will be impacted by the boundary changes.
The draft of the boundary maps contain changes for these elementary schools, in addition to all middle and high schools: Adams, Arlington, Audubon, Franklin, Hamblen, Holmes, Hutton, Lincoln Heights, Linwood, Moran Prairie, Mullan Road, Sheridan and Wilson.
The following are potential school feeder patterns:
Chase Middle School

Franklin
Lincoln Heights
Moran Prairie
Sheridan

Carla Peperzak Middle School
Lewis and Clark High School
Sacajawea Middle School

Grant
Hutton (depends on home address)
Jefferson
Roosevelt
Wilson (depends on home address)

Carla Peperzak Middle School

Hutton (depends on home address)
Mullan Road
Wilson (depends on home address)
Garry Middle School

Arlington
Lidgerwood
Whitman

Shaw Middle School

Bemiss
Cooper
Longfellow
Regal
North Central High School
Glover Middle School
Denny Yasuhara Middle School

Garfield
Holmes
Logan
Stevens
Salk Middle School

Balboa
Linwood
Madison
Woodridge

Pauline Flett Middle School

Browne
Indian Trail
Ridgeview
Westview
SPS will continue to offer students opportunities to attend a school other than their assigned neighborhood school, known as "choicing-in." Students can apply to attend any school, but acceptance depends on available capacity for neighborhood students, the Board said. Transportation is not provided for students who choice in to a school.
SPS online forums
Committee outlines six guidelines
The committee made a list of six guidelines they are following for changing the attendance lines, according to their forum.
Communication and Process
They want to prioritize community engagement, provide a transparent process and ensure regular communication with city and county planning departments.
They will be considering cultural and socio-economic diversity through attendance boundaries and program offerings.
They said they would incorporate legacy status as needed to transition students into neighborhood schools as changes are implemented.
They want to support "walkability" and shorter commute times, as well as keep neighborhood groups together.
Each SPS school wants to have high-quality offering with interesting programming.
They want to keep transportation costs as low as possible.
There are ways around the boundary changes, though. SPS will continue to offer opportunities to attend a school other than their assigned neighborhood school, known as "choicing in," they said. Students can apply to attend any school, but acceptance depends on available capacity for neighborhood students.
Shaw and Glover middle schools will be replaced with new schools in 2020-21, with expected completion in August 2021. The new Northeast and Northwest middle schools will be built in 2021-22, with expected completion in August 2022. Replacing Sacajawea and building a new Southside middle school will take place during the 2022-23 school year, with expected completion in August 2023, their website said.