SPOKANE, Wash. — Kindergarten students throughout the Spokane area are returning to their classrooms after months of virtual learning.
Spokane County Health Officer Dr. Bob Lutz said in late September that he supports area schools allowing students in kindergarten through second grade to return to the classroom for in-person instruction.
KREM set out to answer some questions that parents may have about the decision. We gathered information from Lutz, superintendents of Central Valley School District and Spokane Public Schools, and district websites.
When will kindergarten students return to school?
Central Valley School District welcomed some kindergarteners back beginning, Monday Oct. 5, while some of Spokane Public Schools' youngest learners return on Wednesday, Oct. 7.
Kindergarteners in the West Valley School District will return to classrooms on Thursday, Oct. 8.
Freeman School District brought back grades K-2 and 3-6 beginning Monday, Oct. 5.
Kindergarten students in the Medical Lake School District will return for in-person instruction on Monday, Oct. 12.
What do schedules look like?
SPS students will attend school on an alternating schedule, in Group A or Group B, at the start of the process. School will start at 8:30 a.m. and end at 2:25 p.m.
The schedule is as follows:
Wednesday, Oct. 7 – Group A
Thursday, Oct. 8 – Group B
Friday, Oct. 9 – Group A
Monday, Oct. 12 – Group B
Tuesday, Oct. 13 – Group A
Wednesday, Oct. 14 – Group B
Thursday, Oct. 15 – Group A
Friday, Oct. 16 – Group B
During their off days, the students will have facilitated activities. Those activities have not been designated yet.
Masks must be worn at recess. There will be structured mask breaks so the kids will be able to get fresh air outside.
In regards to meals, they will be served in the classroom and supported by teachers.
Central Valley School District
Kindergarten students in all CVSD elementary schools are beginnning their return to the classroom with a phase A/B approach.
Some students attended school on Monday, Oct. 5, while others attended on Tuesday, Oct. 6. The school day begins at 9:30 a.m. and end at 3:10 p.m.
Schools within the district are then planning to transition to a full day for all kindergarten students on Wednesday, Oct. 7.
West Valley School District
A designated group of kindergarten students will come to school on Thursday, Oct. 8 and participate in face-to-face instruction with their teacher, according to West Valley School District spokesperson Sue Shields. Those students will then do their schoolwork from home on Friday.
The other group of students will begin Friday and follow the same procedure. They will return on Tuesday of the following week.
All students will rotate attending school in-person every other Wednesday.
Freeman students in grades K-2 will move to a two consecutive days per week cohort model, while grades 3-6 can attend in-person one day a week in a cohort model.
Medical Lake School District
Preschool through kindergarten students from Michael Anderson Elementary School and kindergarten students from Hallett Elementary who registered to return to school will begin in-person instruction on Monday, Oct. 12, according to Medical Lake School District Superintendent Tim Ames.
Parents who are currently in the Connect Plus Program will have the opportunity to return to in-person instruction or choose to stay in the program. School personnel will be contacting parents to see what their preference is for their student.
When can students in other grades return to school?
The answer to this question is still up in the air for most districts.
In a press conference on Thursday, Sept. 24, CVSD Superintendent Ben Small said the district has created milestones for its board to weigh in on regarding a phased-in approach for other grade levels. However, this decision would also be based on Dr. Lutz's advice.
"We are planning to move our 3-12 [students] into in-person learning as well and we'll be ready to do so," Small said.
SPS Superintendent Adam Swinyard said the district has also outlined plans for the return of older students when health officials say it is safe.
Shields said WVSD is planning for first-grade students at all four elementary schools to begin in-person classes two weeks after the kindergarten students start and second grade will begin two weeks after that.
Eventually, all West Valley students will be back in school in a hybrid A/B Model, Shields said.
Ames said the Medical Lake School District will "evaluate the progress and success of students returning to school on a weekly basis and phase in additional grades as soon as possible."
Grades 7-12 in the Freeman School District will continue to learn in the current model until further notice.
Will transportation be provided for students who are returning soon?
Transportation will be provided for CVSD students but the district is encouraging parents to take their child to school if at all possible to help with social distancing practices.
SPS will also provide transportation for students, said Superintendent Adam Swinyard.
What is the cold and flu protocol?
Spokane Public Schools said the procedure will be the same as if a student was sick any other time.
If the student has a COVID-19 symptom, their parents will be notified and so will health officials. Depending on the case, the child may be tested for COVID-19.
If they are negative or if they have a doctor's note saying they do not have symptoms, the student may return to school.
If they do not have a note or a negative test, they must quarantine for 10 days.
Are other health protocols in place?
At Central Valley schools, employees must complete a checklist and take their temperature daily. Students must also have their temperature taken before class.
Birthday treats are not allowed in classrooms due to both allergies and COVID-19 concerns.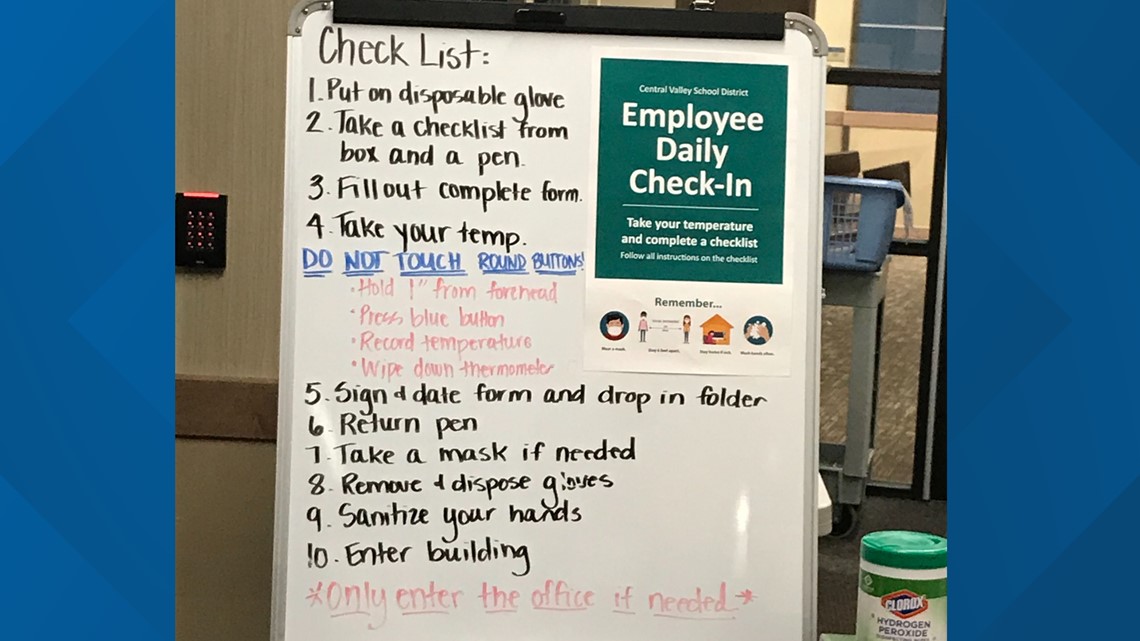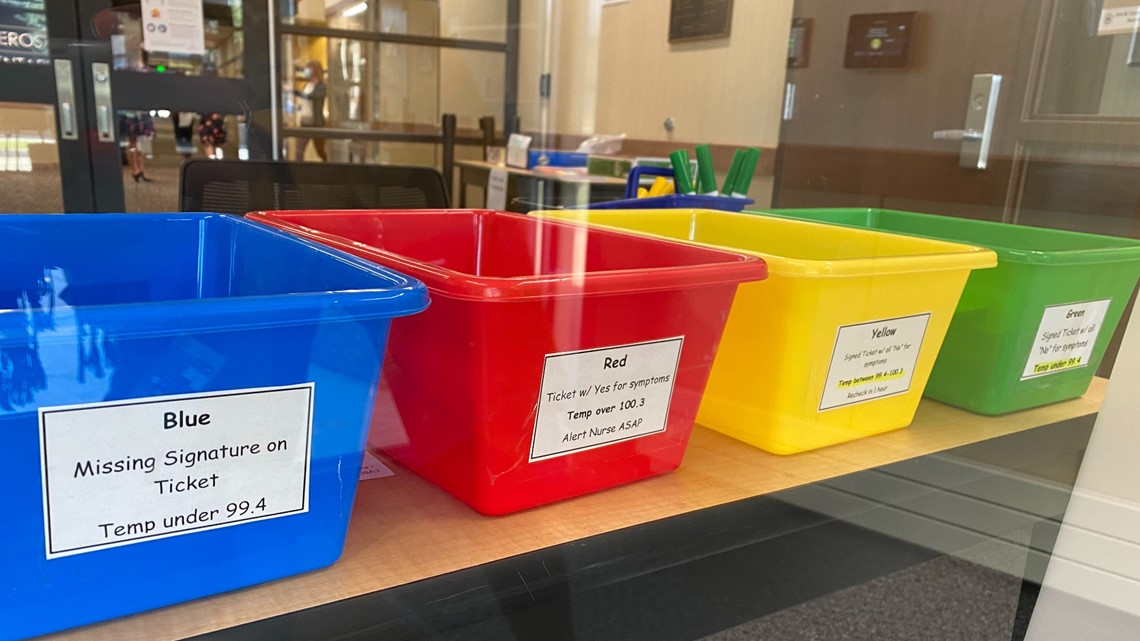 When will school zone cameras be turned on?
School zone cameras in Spokane will be back in operation beginning Wednesday, Oct. 7.
The cameras will operate Monday through Friday on school days from 8 a.m. to 8:30 a.m. and again from 2:20 pm to 2:50 pm.
Why does Dr. Lutz's guidance apply to younger students?
Dr. Lutz explained that schools, both public and private, have been working closely with Spokane Regional Health District to develop plans for a return to in-person learning.
"We're watching the data closely, and although our county remains in the high range, we feel confident in the plans these school districts have developed for a safe return to in-person learning," Lutz explained.
Lutz stated that bringing kindergarten students back into their classrooms "will address needs for social and emotional learning and skill development, concerns of child safety, and academic inequities among those with limited access to technology."
Lutz said during a press conference on Wednesday that, based on national and international data, in-person learning for K-2 students does pose a risk but it is a "very small" one.