COEUR D'ALENE, Idaho — Coeur d'Alene Public Schools released its tentative fall reopening plan on Monday afternoon, outlining what needs to happen for students to return to the classroom.
The plan is subject to approval by the Board of Trustees at a 5 p.m. meeting on Monday, Aug. 3. Anyone can also tune into the meeting virtually via the district's Facebook and YouTube pages.
The meeting will take place at the Midtown Meeting Center with limited seating due to coronavirus restrictions. Before the meeting starts, attendees can sign up to make a public comment.
Written commentary about the plan can be sent to Ltowne@cdaschools.org. The board will accept those comments until Aug. 20 and will vote to approve a final reopening plan on Aug 24.
The school district said on its website that it is preparing for several scenarios as the beginning of the school year rapidly approaches.
If COVID-19 activity in the community makes it too risky for everyone to be in school buildings at the same time, the district will switch to blended learning. This is a mix of classroom and online learning.
During this phase, students would be in classrooms two days a week — Monday and Tuesday or Thursday and Friday — and use technology at home to continue their learning during the other three days of the week.
If the community is experiencing a high level of coronavirus activity that makes it too risky to have students in classrooms, the district will activate full-time online instruction for the duration of heightened risk.
"We believe all students can excel in any type of learning environment," the district wrote on its website. "Our first choice is to have all students attending school in person every day of the school year. So long as that can happen with reasonable precautions in place, that is what we will do."
For families looking for an alternative to traditional classroom instruction, the district is offering a fully online learning option called CdA eSchool for students in kindergarten through high school. Educators from the Coeur d'Alene School District will serve as the teachers for the online program, while classes may occasionally be offered through the Idaho Digital Learning Alliance or a similar vendor.
Spokane Public Schools and Central Valley School District announced on Monday that they will begin with the school year online after a recommendation from Spokane County Health Officer Dr. Bob Lutz.
How will the school year begin for Coeur d'Alene students?
The district's reopening plan outlines what the beginning of the school year will look like based on the category of COVID-19 risk in the community.
The criteria the district is using to determine risk category may include these and other relevant metrics that emerge:
The total number of active cases of COVID-19 in our community
The positivity rate, or percentage of positive cases among the tests processed
Hospitalizations, including intensive care unit admissions
The risk categories – minimal, moderate, substantial, or critical – will determine the learning model students and teachers will be in: traditional, blended or distance learning.
District leaders believe the community is seeing moderate risk right now that is edging closer to substantial risk based on conversations with public health leaders and health care partners.
During periods of moderate risk, school buildings would be open and masks would be required for everyone. Half of the students would attend school on Monday and Tuesday, while the other half would attend Thursday and Friday, and masks would be required during periods of substantial risk.
The district expects to announce the risk category and learning model for the first week of school by the week of Aug. 17.
Risk categories outlined by the district are below: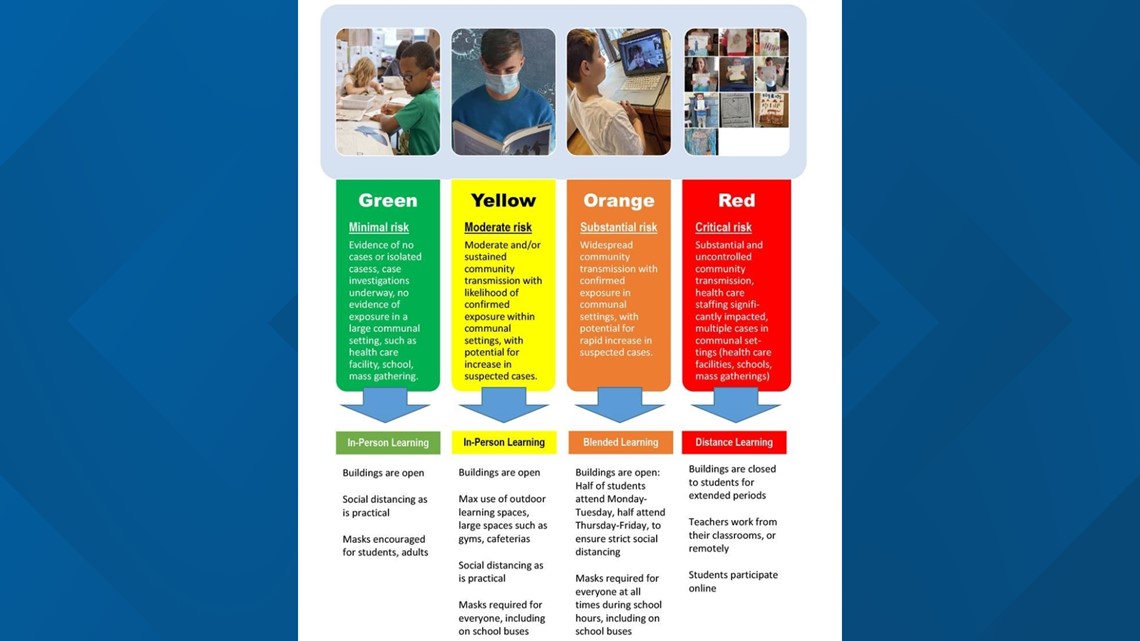 Illness prevention and protective measures outlined in plan
The district also offered a summary of proposed illness prevention and safety measures, pending approval from the Board of Trustees.
All of the measures outlined by the district are listed below.
Health Protocols
Daily health screenings for employees, volunteers and visitors.
Encourage parents to screen students every morning before attending school (taking temperature, assessing for symptoms)
Screen students and staff who feel ill or experience symptoms when at school.
Isolate and send home students/staff who show symptoms.
Send ill students home as soon as possible to avoid spread of infection.
Encourage staff and families to self-report to the school if they or their student have symptoms of COVID-19, a positive test, or were exposed to someone with COVID-19 within the last 14 days.
Advise sick staff or students not to return until they have met CDC criteria to discontinue home isolation.
Close off areas used by a sick person and do not use before cleaning and disinfection.
Protective Equipment
All students and adults will be required to wear face covering or masks at school when the District is in the Yellow (moderate risk) or Orange (critical risk) stages.
Instruct staff, students and families on use of personal protective equipment with guidance from Panhandle Health District.
Identify sources and availability of personal protective equipment.
Educate and give direction on cleaning cloth face coverings.
When teaching students school routines at beginning of the year, include routines for wearing cloth face coverings, washing hands, using hand sanitizer and physical distancing.
Consider additional protection for medically vulnerable staff and students as well as students with special needs.
Facilities
Post signs to communicate about symptoms, preventive measures, good hygiene, and protocols, including staying home when sick.
Provide hand soap or hand sanitizer with at least 60% alcohol, paper towels, and no-touch trash cans in all bathrooms, classrooms, and frequently trafficked areas.
Clean/disinfect frequently touched surfaces at least daily, shared objects after each use.
Take steps to ensure all water systems and features are safe.
Ensure ventilation systems operate properly and increase circulation of outdoor air as much as possible, as long as this does not pose a safety or health risk.
Conduct deep cleaning of schools prior to students/staff returning; schedule periodic cleanings on weekends, holidays, breaks.
Establish health office with a separate isolation area for effective infection control management for students and staff exhibiting signs and symptoms of infection.
Mark spaced lines to enter the building and designate entrance and exit flow paths.
Social Distancing
Remove unused desks and furniture in classrooms, maximize social distancing to the extent practicable.
Limit physical interaction through partner or group work.
Establish distance between teacher's desk/board and student desks.
Use large spaces such as gymnasiums, auditoriums, outside spaces as weather permits
Consider allowing priority intervention students to continue in-person instruction as these students often rely on daily routines and social interactions to address their individual learning needs.
Food Service
Have students wash hands before and after meal service.
Provide hand sanitizer for students and staff.
Spaced serving lines and eating areas.
Serve meals in classrooms using disposable supplies.
Establish alternative eating areas, such as outside as weather permits, along with multipurpose rooms and gyms.
Mark spaced lines to enter cafeteria and serving lines; designate entrances and exit flow paths; stagger use.
Sanitize eating spaces between groups using approved food-grade sanitizers
Conduct cleaning of cafeterias and high-touch surfaces throughout school day.
Provide waste receptacles in alternate areas where students are eating.
Provide grab-and-go lunches, pre-ordered lunches, take-home meals, and pick-up or distribution sites for students not at school.
Transportation
Help ensure riders are spaced 6 feet apart while waiting to board buses.
Providing hand sanitizer for students and drivers
Space students by family groups
All students and adults will be required to wear face covering or masks on buses when the District is in the Yellow (moderate risk) or Orange (critical risk) stages.
Run fans and have windows down as environmental conditions allow.
Limit field trips to areas with no community transmission
Clean and disinfect frequently touched surfaces on buses at least daily
Air out and deep clean buses when not in use.
Extracurricular Activities
Note: The Fall Athletics and Extracurricular Plan was developed in conjunction with Idaho High School Athletics Association guidelines and Panhandle Health District recommendations.
All students and adults should wear face covering or masks when the District is in the Yellow (moderate risk) or Orange (critical risk) stages.
Divide students and coaches/advisers into distinct groups (pods) that stay together throughout a practice, rehearsal or meeting.
Follow 6-foot distancing.
Restrict locker and equipment access.
Limit spectators.
All activities will be suspended in the Red (critical risk) stage.
Illness Response
When the District learns of a student or adult who has tested positive for COVID-19, has had contact with a person who has tested positive for COVID-19, or is showing symptoms of COVID-19:
The Health Services team will respond and determine appropriate course of action.
Ill students or staff will be isolated and sent home.
Determine if building closure needed.
Communicate with all affected individuals.
Initiate cleaning procedures.
Disease surveillance and contact tracing will be initiated to identify those at risk.
Issue notices for self-isolation or quarantine.
Implement reopening or return-to-school dates.
Monitor confirmed cases and those who have been excluded.
Coordinate with Panhandle Health District.