PULLMAN, Wash. — The Washington State University Athletics Department recently announced they are facing an $11.5 million budget shortfall that university leaders are working to resolve.
According to the university, the shortfall is from a combination of unexpected decreases in the Pac-12 Conference revenue distributions, revenue sources falling short of projection, and operating costs that exceeded the approved budget.
As reported by the WSU Insider, the board, including WSU Athletic Director Pat Chun and WSU's new Executive Vice President for Finance and Administration Leslie Brunelli, will address the deficit and proposed plans during the next board meeting on June 9.
During the meeting they are expected to address the Athletics Budget Adjustment Approval for Fiscal Year 2023, Athletics Budget Transfers for Fiscal Year 2023 and Athletics Budget Approval for Fiscal Year 2024.
"Athletics has made significant strides in bringing the department to a balanced operating budget but is now dealing with multiple unforeseen challenges," WSU System President Kirk Schulz said in a statement to the WSU Insider. He continued, "Fundraising and sponsorships continue to grow and I remain committed to achieving a balanced annual operating budget, building financial reserves and developing a repayment plan for paying down the internal debt."
Several operational changes and a series of new budget monitoring and financial accountability measures are being implemented to resolve the budget shortfall.
The decreased revenue for the current 2023 fiscal year includes the following:
A $3.5M expected to decrease in the Pac-12 Conference revenue distribution
A forecasted $1.4M shortfall in Pac-12 and NCAA distributions, on top of the $3.5M reduction related to the Pac-12 overpayments and increased moving expenses.
About $1.3M from a decline in student sports pass, fees, and waivers from decreased enrollment, and a shortfall in other revenue related to parking, facility fees, and bowl revenue.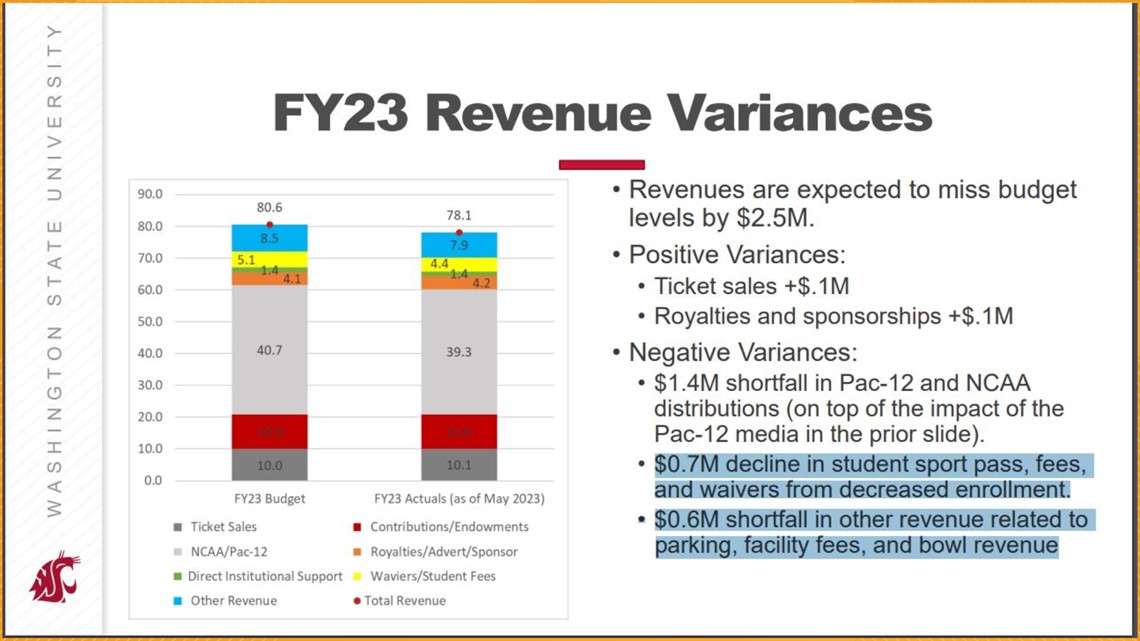 The WSU Athletics Department's expenses also exceed the budget by $5.5 million, which includes the following:
Compensation exceeded budget by $300,000 due to student wages, overtime pay, and increases to contractual employees.
Financial Aid was $400,000 over budget due to a larger than anticipated amount of medical and degree completion aid awarded.
Team expenses, including travel, recruiting, student-athlete meals, medical expenses, and other expenses exceeded the budget by $4.8 million.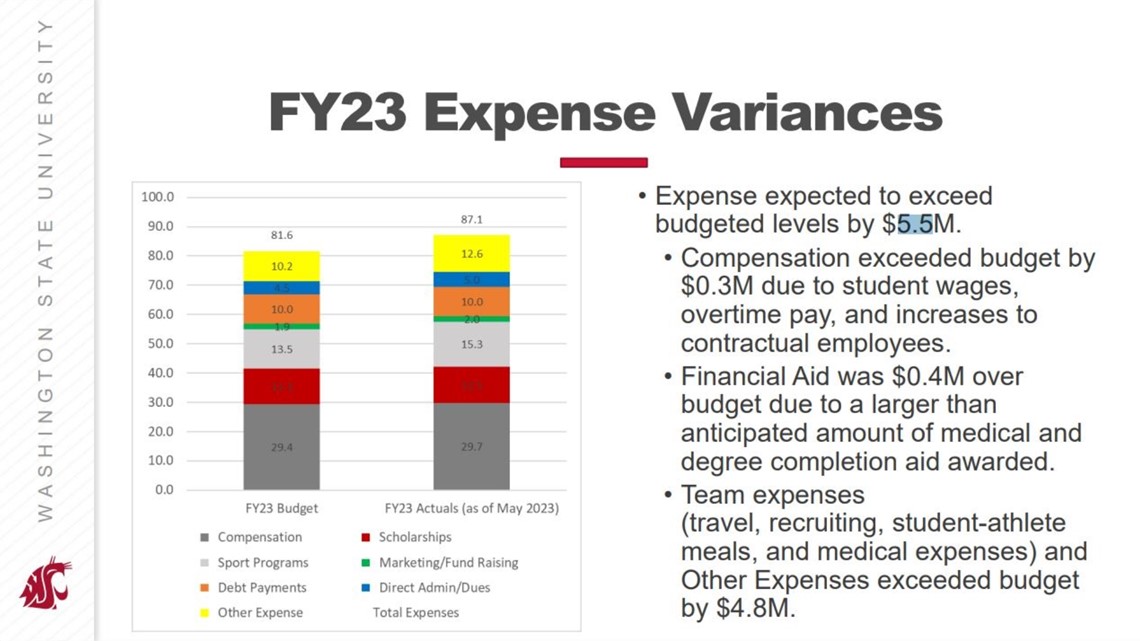 To maintain a balanced budget while revenues from the Pac-12 conference are expected to decline for a second straight year and the impacts of inflation, the rising cost of travel, meals, equipment, the department will manage spending through updated policies around compensation, travel, and professional development.
According to documents from the fiscal budget, since early May, athletics has implemented the following steps to help mitigate the shortfall:
Current and future vacant positions will remain frozen until further review and start dates will be delayed.
Non-essential travel and purchases are halted.
All new professional development is paused and a revised professional development and travel policy will be implemented.
All expenses and purchases must be approved by a Sports Administrator or Deputy AD.
The total budget expenses for the 2024 Fiscal Year are $83.4 million, down $3.7 million from the actual 2023 Fiscal Year. The proposed budget must be approved by the Board of Regents, which is scheduled to consider the proposal during its June 9 meeting.
Read the full meeting agenda below:
DOWNLOAD THE KREM SMARTPHONE APP
HOW TO ADD THE KREM+ APP TO YOUR STREAMING DEVICE
ROKU: add the channel from the ROKU store or by searching for KREM in the Channel Store.