As housing costs continue to rise in cities across the country, residents are forced to take a bigger cut of their paycheck to pay rent. According to a new report from Zillow, renters in Seattle are taking the biggest hit.
Zillow, an online real estate and rental marketplace, calculated how much a renter's income would need to rise for them to maintain how much they take home after paying rent. In other words: How big of a raise would renters need to compensate for higher rent costs in the next year?
Nationally, salaries need to rise $168 annually to keep up with rising rent over the next year, according to Zillow's analysis. In Seattle, renters would need an additional $1,248 in annual compensation to keep up with predicted rent increases.
Compared to Seattle, no other city in the country will cost renters more in the years to come. Los Angeles will experience the second largest hike in rent, requiring residents to make $1,152 more each year, and Boston came in third with an annual income hike of $1,140.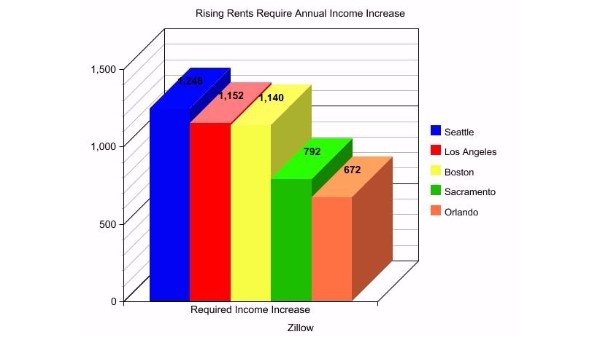 Spending no more than 30 percent of your income on housing is the general rule of thumb, but residents in metropolitan areas across the country have an increasingly difficult time following this rule as rent costs continue to rise and income
"For a long time now, renters have faced an affordability crisis when it comes to housing, and renters in some hot markets will still need significant raises just to keep up with rising rents," Zillow Chief Economist Dr. Svenja Gudell said in a statement. "Incomes have a ways to go to bring rental affordability closer to historical levels, but recent gains are being met with slowing rent appreciation, a welcome sign for renters."