WHITMAN COUNTY, Wash. — When you think about rapidly growing communities in Washington state, you might think of one of the major counties like King, Pierce or even Spokane. However, you might be surprised to learn, Whitman County was recently named the 'fastest-growing county between 2021 and 2022,' according to the U.S. Census Bureau.
Whitman County's population dropped by 9.6% between 2020 and 2021 but then grew by 10.1% in 2022, which is the most of any county above 20,000 in population. The U.S. Census Bureau said in a news release, "Whitman County's change is just one example of the many college counties that saw a rebound in the last year after a lull during the COVID-19 pandemic."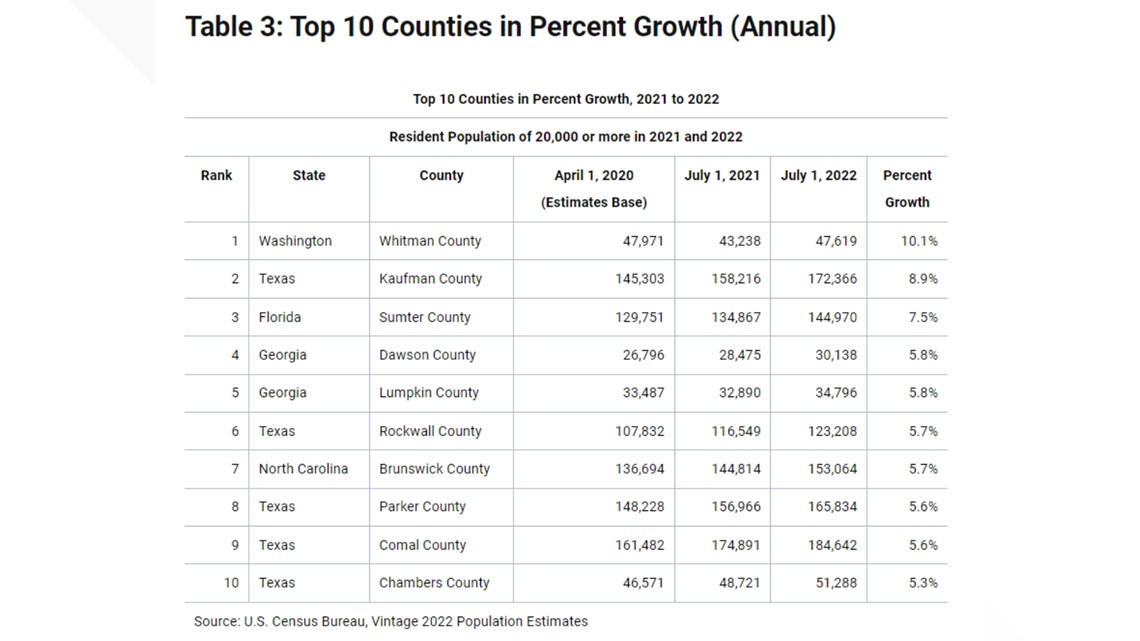 The Palouse is home to Washington State University, Schweitzer Engineering Laboratories, and a large agricultural sector. What makes the county's population so unique is that it is largely made up of students, both locals and alum know when school is out, the city can feel more like a ghost town. When the pandemic hit and classes moved online, some chose to go back home, most of whom live in Western Washington.
"Many counties with large universities saw their populations fully rebound this year as students returned," said Dr. Christine Hartley, assistant division chief for estimates and projections in the Census Bureau's population division.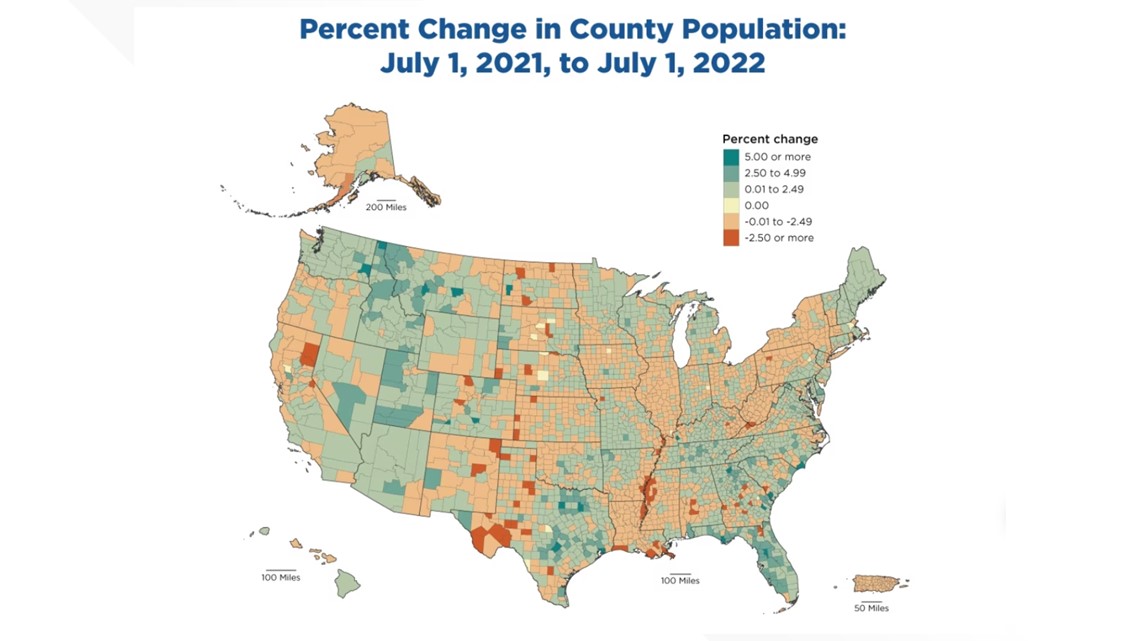 The agency believes coming out of the pandemic is what gave Whitman County such a large spike. However, that might not be the case according to Pullman's Mayor, Glenn Johnson.
"I think OFM, the Office of Financial Management shortchanges, we sent several letters to them saying, 'Hey, we do have the students here.' So those are some of the campaigns that we tried to do at that time, even though they said, 'No you lost all the students, they are home.' No, they're not," Johnson said.
Johnson said there's no denying the county is growing, but believes the numbers used in the census data undermeasured the population during COVID, assuming many students went home, when in fact many stayed he said because they could not get out of their leases.
"So when it comes to the point, we had all this growth, yes, but there's an asterisk with that. I think they were here. Now they're measured," Johnson explained.
The growth is putting pressure on the county's housing. As of mid-May of 2023, there were only 66 listings in the entire county, 39 of them are in Pullman. "So we know that there's need for more housing, we are seeing the growth, are they doing that fast enough? No, because again, you have a shortage of tradespeople not only here but in Spokane," Johnson said.
The demand is keeping real estate agents like Jacob T. Davis busy. Davis has lived in Pullman for about 30 years and has been an agent for about half that time. "Every day I get a call from somebody moving from the west side trying to get out of Seattle or trying to get out of California to come to Whitman County," Davis said.
It's not just Pullman seeing growth, so are smaller towns in Whitman County. It may be cheaper, but Davis said inventory is very low. "I have people that call me from Spokane, because they can only afford $135,000. And they'll buy a house in Endicott or Tekoa because they can't buy anywhere else in the state of Washington."
As more people move to the county, the more growing pains it puts on resources as they adapt to serving more people. Mayor Johnson has lived on the Palouse for decades and seen firsthand how the growth is impacting housing, schools, first responders, and Pullman Regional Hospital. "When that was built back in 2003-2004, 'eight, nine rooms ought to be enough.' Not anymore. So we see that kind of a growth, we see it in terms of all the different demands for services."
The news of Whitman County being named the fastest growing count in the nation even caught the attention of WSU's head football coach, Jake Dickert, he sent out a tweet celebrating the recognition.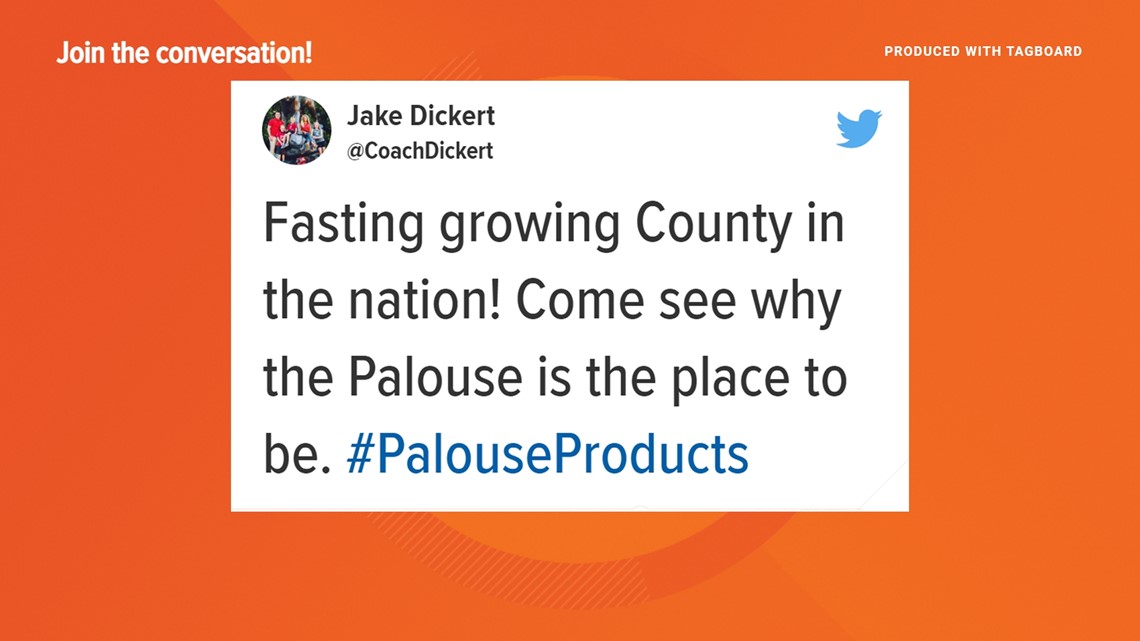 "So when I read it, A: It was shocking, right? I had a couple of people send it to me. But B: it's just a reminder that we are different. You know, on the west coast, there's a lot of major metropolitan cities, a lot of business of life, and a lot of fast paced in our society. And just another reminder of Whitman County, and Pullman being different," Dickert said.
WATCH RELATED: Population growth benefits up-and-coming industries | Boomtown
HOW TO ADD THE KREM+ APP TO YOUR STREAMING DEVICE
ROKU: add the channel from the ROKU store or by searching for KREM in the Channel Store.