SPOKANE, Wash. — Keeping your car from being stolen or broken into in Spokane is a growing problem. Just ask Chef Michael Owens at the People's Waffle downtown.
"I've had a couple times actually, a couple different occasions, where my back window has been busted out," said Owens.
Owens says his car windows have been smashed three times while being parked downtown, even though he parks just feet away from the entrance.
"I'd say probably about 80% of our staff here has experienced it," says Owens. "Or there's days where I've come in, and there's been four or five cars where you just see the windows just completely busted out."
Even parking in a high-traffic area like 1st Avenue doesn't make him feel any safer.
"I definitely like am checking it every once in a while, just making sure my car is okay," said Owens.
According to Spokane Police, the downtown area has seen the biggest increase in property crimes and some of the highest numbers of vehicle-related crimes, but Corporal Nick Briggs says other neighborhoods are seeing similar trends.
Below is a map that we created based on the data provided to us by the Spokane Police Department and their crime map.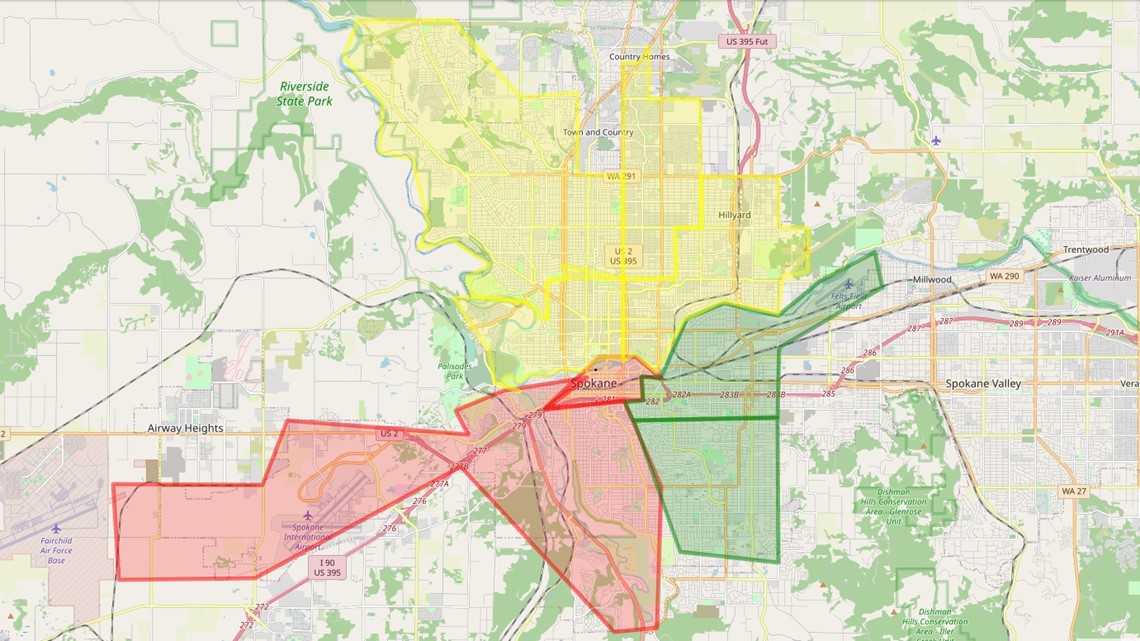 The interactive map is based on the total number of thefts from a motor vehicle reported to the Spokane Police Department from January 2021 through October 2022. The city is split by police district and highlighted green, yellow, or red for low, medium, or high number of reports, respectively.
The colors were determined by how far each district's reports were from the median number of reports. To see the number of reported thefts and district names hover over each district.
"We've seen increases in property crime we've also seen increases, to a lesser extent in violent crime," said Cpl. Briggs. "And so we've had to move some resources because protecting people's physical well-being has to be our number one priority."

Corporal Briggs says even though people are calling to report these crimes, police are not able to respond to all of them in person.

"Generally, when it comes to a vehicle prowling incident, an officer will not respond, an officer in person will not respond," said Cpl. Briggs. "That doesn't mean that there's not still a police report, those police reports are taken through our crime check system, it also doesn't mean that they won't be investigated."
Break-ins are also harder to respond to because they happen so quickly and often, no one is around to witness what happened.
"Because that crime takes such a small amount of time, it's obviously hard for us to deter in some instances because there's such a short window that we would actually be seeing it," said Cpl. Briggs. "And it happened so quickly. And there's no really residual evidence that's readily apparent. So you know, somebody takes a backpack out of a car, and the two seconds that they're in the car, they're actually committing the crime, now they've got the backpack, they're walking down the street, there's nothing super evident, then they've just committed a crime, right? They blend right back in."
Corporal Briggs says that the age-old rules still apply to protecting your car from thieves. Park in a well-lit area. Don't leave valuables in your car. And lock your doors. However, he also says to keep detailed information and serial numbers of any valuable items.
"So, documents with serial numbers," said Cpl. Briggs. "I always recommend people keep a file of all their valuable items with pictures of them and those serial numbers. So, you know, people have stickers and stuff on their laptops. It's great if I am investigating something, and not only do I have the serial number, but like yep, that's clearly the laptop because it's got all these individualized stickers on it."