December quickly becomes the busiest time of the year.
But if you're going to overbook your calendar, keep these nine events in mind. These are all holiday classics known for bringing magic to the Christmas season in Spokane. Try at least one this season and start a new family tradition.
1. Bing Crosby Holiday Film Festival
Christmas in Spokane, or anywhere in the U.S., wouldn't be complete without the crooning voice of Bing Crosby. Lucky for us, he grew up here.
For 13 years, Spokane has been paying tribute to one of their biggest stars with a holiday film festival. Hosted at his namesake theater. Bing fans can watch five films in one day. And in case you show up late or leave early, White Christmas plays twice.
Time: 10:30 a.m. to 10 p.m.
Location: Bing Crosby Theater (901 W. Sprague, Spokane)

Kick off a "fun, old-fashioned family Christmas by heading out to the country in the front-wheel drive sleigh to embrace the frosty majesty of the winter landscape and select that most important of Christmas symbols."
Make it easier and head to Green Bluff. The country community includes U-cut and pre-cut Christmas tree farms. Buy a tree, sip some hot coco, see Santa and hop on a carriage ride.
It's a great holiday tradition and you won't be frozen from the waist down.
Location: 15 miles north of Spokane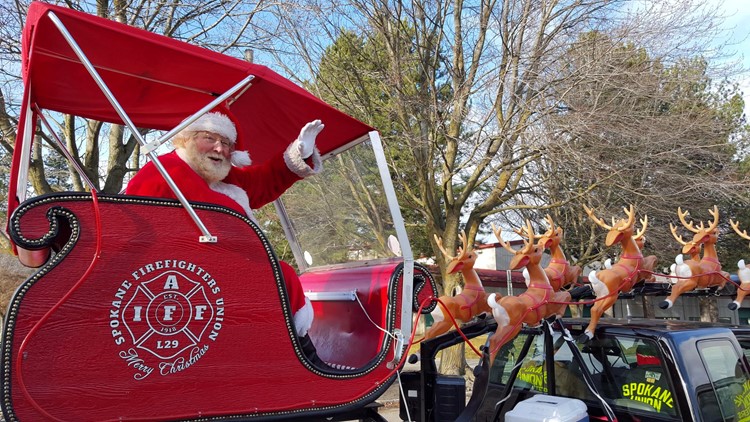 Santa rolls into Spokane early thanks to Local 29.
Each year, members of the Spokane Firefighters Union give Santa an impressive escort through every Spokane neighborhood. But keep an eye out and plan ahead for this event. Santa can pass through quickly.
Local 29 updates their Facebook page daily about when and where you can catch a glimpse of the big guy.
Date/Time: Varies until Christmas
4. Manito Park Christmas Lights
Holiday lights return to Gaiser Conservatory at Manito Park

Manito Park's Gaiser Conservatory transforms every winter into a wonderland of more than 30,000 Christmas lights.
It's an impressive display and great for little kids. Bonus: everyone stays warm.
Date/Time: Dec. 13-22 (noon to 7:30 p.m.) and Dec. 23 - Dec. 31 (noon to 3:30 p.m.) Closed on Christmas.
Location: 4 W. 21st Ave., Spokane (inside Manito Park)
5. Christmas Tree Elegance
Nothing says Christmas in Spokane like the Davenport Hotel. The decorations are top-notch, but the fundraiser on the second floor is the show-stopper.
Christmas Tree Elegance sells $1 raffle tickets for 18 custom decorated trees and other prizes at the Davenport and River Park Square. It all benefits the Spokane Symphony.
Eighteen people win a decorated tree and more than $4,000 in prizes.
Location: Davenport (10 S Post St, Spokane) and River Park Square (808 W Main Ave, Spokane)
Cost: Free to view, $1 per raffle ticket
Neighbors welcome back Candy Cane Lane

Don't look for it on a map.
The decades-old Candy Cane Lane is actually located at Tekoa, between 37th and 40th avenues, in south Spokane.
Drive down this street for guaranteed Christmas lights and matching candy canes. That's right, giant candy canes stand illuminated in almost every yard on the block.
Date: Now through Christmas
Location: South Spokane (Tekoa & 39 Ave.)
7. Riverfront Park Ice Ribbon
Can't get enough Hallmark Christmas movies? No problem.
Spokane created their own Hallmark-esque scene. The outdoor Ice Ribbon is parked in the heart of downtown .Adding to the Christmas movie atmosphere are fire pits and a massive Christmas tree.
Rent ice skates or bring your own.
Date: Open now until late February
Location: 720 W Spokane Falls Blvd., Spokane
Cost: $7.25 for adults and $5.25 for kids 12 and under for 1-hour of skating), $4.95 for skate rentals

Keep your Hallmark movie dreams going and hitch a ride on a horse drawn carriage. It's down the street from the Ice Ribbon on Wall Street, across from the Wheatland Bank ATM.
The 15-20 minute rides are free and it's first come, first serve.
Date: Now - Christmas Eve
Location: 222 N Wall St., Spokane
An iconic Spokane tradition has returned. The elaborate Christmas window displays from the old Crescent department store are on display.
The animated windows bring a bit of nostalgia to downtown the modern Davenport Grand. The Christmas window displays have been refurbished and given a new home after being stored in a basement for decades.
Stop by the Crescent windows while you're heading through downtown. It's a quick stop but one that kids of all ages are sure to love.
Location: Main and Washington, Spokane