Fall is in the air, and that means days spent apple picking, pie baking and pumpkin carving.
Beck's Harvest House is one Spokane spot where your autumn dreams can come true.
Todd Beck, a member of the family that runs Beck's Harvest House, is an expert on choosing the perfect pumpkin or apple for whatever your heart desires.
Fall brings pumpkins and apples to Beck's Harvest House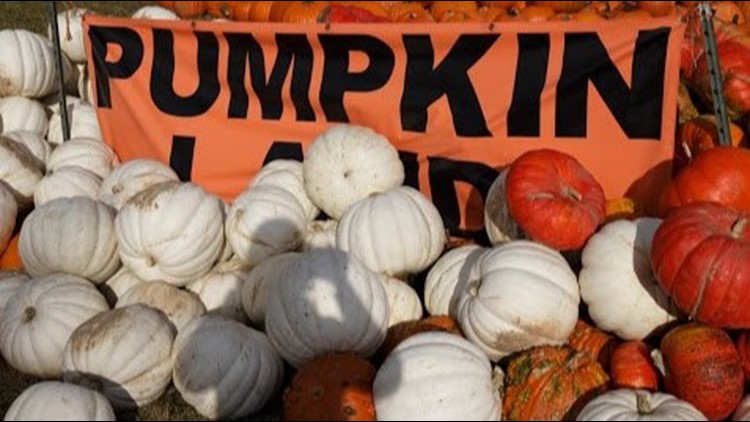 Beck said you will want to use sugar pie pumpkins for making pumpkin pies because they have a higher sugar content. Those are the smaller pumpkins you will see if you visit Beck's Harvest House.
"Sugar pie is what you're looking for if you actually want to cook with your pumpkin," Beck said.
When picking your pumpkin, you should make sure it sits well, Beck said.
"Every pumpkin is going to have a bit of a flat side and a rough side because they grow on the ground," he added.
Harvest House has a variety of different pumpkins, including bright orange "Cinderella pumpkins," white "Ghost pumpkins," and witch or warty pumpkins. All of these pumpkins are true to their name. You can carve those pumpkins but many people leave them as is for decoration, Beck said.
"If you do not carve a pumpkin, it lasts a lot longer. Once you have carved it and cut into it, it's going to start rotting from the inside. Also, if pumpkins freeze real hard, they will start to get soft just like any fruit or vegetable.
Beck said right now is a prime time for pumpkin picking. At this stage in the game, pumpkins should last through Halloween with no issues.
Another fall tradition: Heading home with bags full of juicy, crispy apples. The apples at Harvest House are brought in from the fields rather than a packing line where they are waxed and polished.
Some varieties of apples available at Harvest House right now include Jazz apples, Granny Smith, Jonagold apples – a combination of Jonathan and Golden Delicious apples – Fuji, Braeburn and Cameo, to name a few.
Beck said Granny Smith, Fuji, Braeburn and Cameo apples will keep for several months if they are chilled. Granny Smith apples are good for pies, along with the Jonagold apples. Beck's Harvest House uses those apples for most of their pies.
If you go, you can also grab some pumpkin donuts, apples with homemade caramel, pies, turnovers, muffins and scones. The Fall Harvest Festival at Beck's Harvest House runs every Saturday and Sunday from 10 a.m. to 5 p.m., and includes food from restaurants like Mac Daddy's, Azar's and Harvest House's very own barbecue.