SPOKANE, Wash — Coronavirus is keeping us from gathering with our friends and family and from going out to eat.
This Thanksgiving, why not help a local business and save yourself the stress of cooking a huge meal?
Restaurants and catering companies around the Inland Northwest are offering heat and serve Thanksgiving dinners to help you have a great meal without all the work.
Here's a list of locations that can help:
EatGoodGroup (SOLD OUT) Meal kit for four includes turkey, cranberry sauce, sweet potato casserole, herb butter, gravy, mashed potatoes, stuffing, green beans and six brioche rolls for $70. If you'd like a pumpkin, apple crumble, huckleberry, lemon meringue pie or cheesecake, it's $25. You can order online and pick up at the Eat Good Café in Liberty Lake, Yard Bruncheon in Kendall Yards or Republic Kitchen in Post Falls.
The Ivory Table Catering Company (SOLD OUT): Meal kits can feed two, four, eight or 12. The kits include turkey, mashed potatoes, stuffing, glazed yams, green bean casserole, cranberry sauce and gravy. They also offer a box that only includes side dishes. Meal kits start at $72 and side box starts at $50. Pumpkin pies are $17. A dozen dinner rolls are $14. You can order online and pickup at the location on East Sprague or get it delivered starting at $10.
Beacon Hill (SOLD OUT): Meal kits for four includes turkey, gravy, cranberry sauce, mashed potatoes, green beans and apricot-thyme butter dinner rolls. Meals are $75 and must be ordered by Nov. 18. Delivery is free within 10 miles of the restaurant.
The Grain Shed: They're offering side dishes like pies, rolls, bread, yams, stuffing, cranberry sauce and beer. Orders can be made online and can be picked up Nov. 24 or 25.
Shawn O'Donnell's (SOLD OUT) Meals serve five or six. They include turkey, dressing, Irish potatoes, caramel yams, green beans, cranberry sauce, gravy and bread for $100. Individual meals are $22.99. They also offer growlers of beer, wine and cocktail kits. You can order online and pickup ay the downtown Spokane location on Nov. 25 or 26. Order must be placed by Nov. 23.
SmokeRidge BBQ: They're offering two family sized meal packages at $85 and $155. You can also buy meats by the pound, desserts and sides. More information available on their Facebook page.
Clinkerdagger: Meals serve 4-6 people for $150. They include sliced turkey, mashed potatoes, house-made gravy, lemon-scented green beans & carrots, chicken apple & sage sausage stuffing, cranberry & orange compote, and a pumpkin pie. Orders must be placed by Nov. 20. More details on their Facebook page.
Marketplace Restaurant and Amish Country Store: Each meal includes your choice of farm fresh turkey or ham, green beans, mashed potatoes and gravy, fresh baked dinner roll, house made stuffing, cranberry sauce and your choice of a slice of our scratch baked apple or pumpkin pie. Just 15.99 each. Call 509-235-9176 to place your order.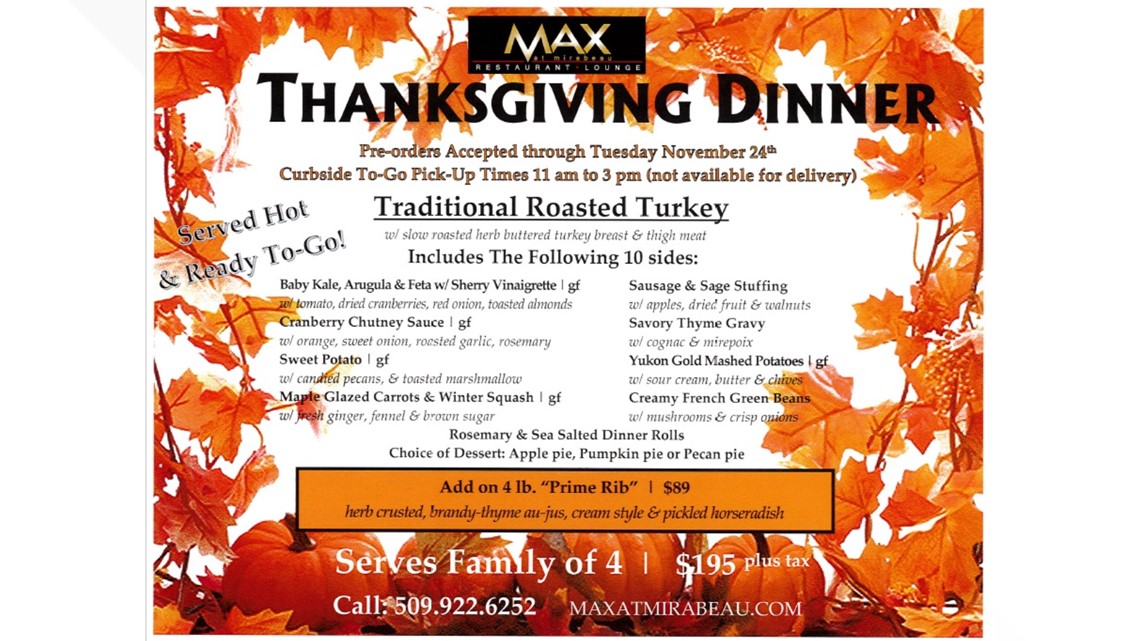 Commellini Estates (SOLD OUT) The restaurant is offering two types of Thanksgiving dinners: either a turkey dinner or pork loin. Each option feeds four. Turkey dinner costs $89 and the pork loin dinner is $105. You can order online.
1898 Public House:The restaurant has two options: A Traditional Turkey Dinner or Prime Rib dinner. Each comes with a starter and dessert. $38 for turkey and $47 for prime rib. Call 509-466-2121 to place to-go orders. Orders must be in by Tuesday, Nov. 24.
HUNT Spokane: The restaurant is offering everything but the bird Thanksgiving dinners for two or four people. The two person meal costs $60, while the four person costs $95. Orders can be placed at hunttakeout.com or huntspokane@gmail.com The meal includes:
Parker House Rolls
Roasted Potatoes
Brussels Sprouts
Pumpkin Gratin
Mashed Potatoes
Focaccia Stuffing
Pumpkin Pie

The items above, along with lemon tart slices, chocolate chip cookies, curry pumpkin soup and more can be ordered a la carte.
Do you have a business serving Thanksgiving dinners? Email us details to newstips@krem.com.