SEATTLE — It takes a small battalion of volunteers armed with power tools and magical intentions to bring "Bruunidun," the conch playing troll, to life in West Seattle's Lincoln Park. Denmark's Thomas Dambo had flown in from Texas to help with the finishing touches.
"I hope that when people see the trolls they will smile, and then I hope they will think like 'Wow! Could a bunch of volunteers and a semi-good artist really make all of that out of some junk here from Seattle?'"
Since 2013 Dambo, the self-described "semi-good" artist, has built and hidden more than 120 giant trolls in 17 countries. Each one is whimsical, magical and with a message for people living on this planet.
"We should treasure it as the treasure that it is," Dambo said.
And what better messenger than giant trolls?
"My mother would read me stories and sing me songs about trolls," said Dambo. "And then when I grew up I wanted to do like an epic big project where I could involve like thousands of people in building valuable things out of trash to educate and show the world that we shouldn't be drowning in trash."
Though the heads and feet are carefully constructed in Dambo's workshop outside Copenhagen, everything else is built on the spot from recycled wood.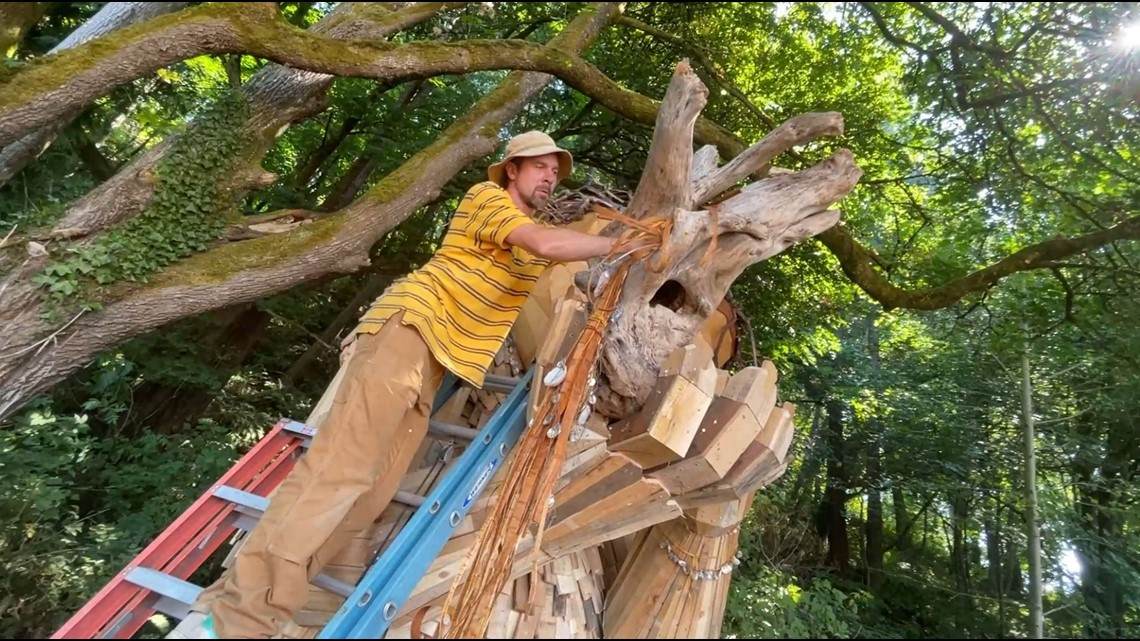 John Halliday, a Duwamish artist enrolled in the Muckleshoot Indian Tribe, goes by the name Coyote. He provided some extra embellishments out of cedar and abalone.
"Thomas is a very special person," said Halliday. "He deeply believes in saving our planet and saving our planet is an important thing to the Muckleshoot/Duwamish people as well."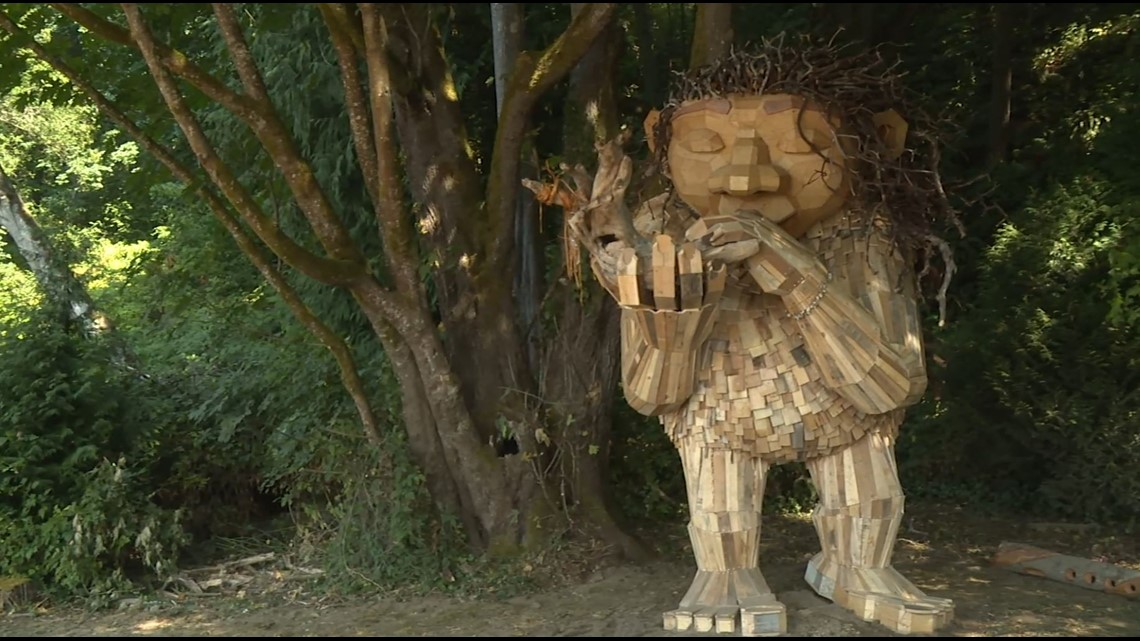 "Bruunidun," or "Idun" for short, is one of six Northwest trolls. It's all part of a public arts exhibition called "Northwest Trolls: Way of the Bird King." There's Pia, seeking peace on Bainbridge Island, and in Portland there's a 19-foot troll called named Olebolle who seems to be looking for a snack under the roof of a small house.
Dambo has already inspired waves of "troll hunters" to get out into the wilderness, protect natural spaces and discover that in nature there are no landfills. A lot of the things we think of as trash are just part of a cycle.
So no we haven't seen the last of the trolls.
"It's all the things that I love the most," said Dambo, "Building, dumpster diving, traveling, being in nature and then achieving something with a big group of people."
For all of you troll hunters out there, by mid-September there will be trolls in Portland, Vashon Island, Bainbridge Island, West Seattle, Issaquah and Ballard. They should be around for at least three years and then it is up to the communities to decide whether they can stay or not.