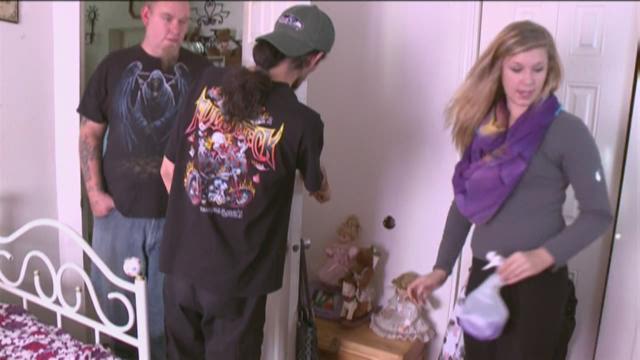 SPOKANE, Wash. - A crew in Spokane is working as real-life professional ghost busters. The crew said they go house to house, capturing evidence of the paranormal.
They said for them, it is a relatively new business. However, the crew said they have already done several investigations. The group claims to have even cleansed two homes of negative spirits.
They call themselves the Spokane Ghost Crew. They said they investigate for free and use all different types of equipment to try to find evidence of paranormal activity. They said they have equipment to measure electromagnetic currencies and even something they use to hear the voices of what they claim are spirits.
Bailey Jeffries said the crew cleansed her home. She said before they investigated, some spooky things were happening at her home.
"I woke up to something moving my blanket," Jeffries said. "It pulled my blanket. My blanket went onto the floor. At that point I was like, well, this is weird, just try to go to sleep. I went back to sleep for a little bit, and it grabbed my blanket and pulled me to the end of the bed. That's when I sat up and ran out of my room because it scared me so bad."
After that happened, Bailey said she and her mother had the Spokane Ghost Crew investigate the house.
The crew gave the family some pictures of their investigation that show white markings. The crew said those markings were evidence of spirits.
The ghost hunters said they also conducted what they call an EVP session, which stands for electronic voice phenomenon. The crew said the point of the EVP session is to try and provoke the spirits in the house to see if they are real.
"This family deserves answers," said one of the Spokane Ghost Crew Members while investigating. "You need to reveal yourself to us."
"I've got a really weird feeling up my left ankle," said crew member Brian McGraw while in the home.
The crew said that after provoking what they claim were spirits, they started hearing various ghost whispers.
In the end, the crew said they found seven spirits. The crew said they doused the home with holy water and now those who live there said they can sleep at night.
Although there is no way to know for sure if the home was really haunted, or if the spirits were real, the Spokane Ghost Crew will tell you their line of work is serious business.