Hidden Spokane: Ghost signs linger from yesteryear
Fast forward to 2015, more than 120 ghost signs can be spotted in the Spokane area.


SPOKANE, Wash.-- Downtown Spokane contains more than one dozen vintage brick advertisements, some of which are over 100 years old. A few of the more interesting ones are profiled here...
Hand painted advertisements of yesteryear still grace the sides of several Downtown Spokane buildings. Now, local college students have put together a tour to showcase this piece of Hidden Spokane.
Many of the hand painted ads, also known as ghost signs, date back to the early 1900s. But it is the lead paint used in the signs that has preserved their decades-old sales pitch.
Fast forward to 2015, more than 120 ghost signs can be spotted in the Spokane area.
Students from Eastern Washington University have worked to catalog all of the existing ghost signs in the area.
"Spokane is one of the biggest cities to really document the ghost signs," said EWU student Anna Harbine. You can see a couple of other ones in Oklahoma, Texas, but it's kind of a new area of history that people are exploring."
The ghost signs project at EWU began in a history class taught by Larry Cebula. Professor Cebula's students cataloged more than 120 ghost signs, but believe there could be 200 hand painted ads on local buildings.
Most of the signs were created between 1900 and 1940s according to Harbine. Some of the biggest ghost sings in the Spokane area came from national ad campaigns like Coca-Cola.
The research even inspired some of the students to take their project beyond the classroom. Now they have started a ghost sign tour for the public.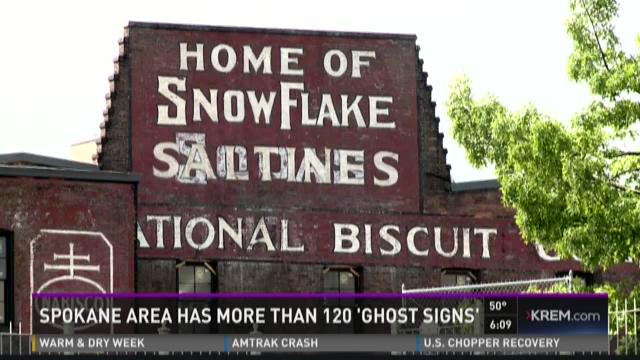 "It just gives us a glimpse into what Spokane was at one point," said tour creator Frank Oesterheld. "I think that's what's so interesting about them."
"The advertisements were really targeting towards men in this region," added Harbine. "When you get further towards the west, they get more family oriented, more local businesses rather than just plain advertisements."
The lead paint in the signs has helped preserve the advertisements. However, their preservation is also up to the business owners because many of the signs are or located on privately owned buildings.
The ghost sign tour begins June 6. A pre-tour class is offered at the Northwest Museum of Arts & Culture in Browne's Addition when you sign up. The tour group then visits 30 ghost signs in Spokane.