The Spokane Lilac Festival Association (SLFA) festivities begin on May 15 and wrap up with the annual Armed Forces Torchlight Parade on Saturday, May 19.
The 2023 parade will once again feature local and visiting high school bands, community floats, equestrian units, marching and vehicle units representing branches of the armed forces and veterans, and a few surprises in between.
"We are so excited to celebrate Spokane and the Pacific Northwest, and our Military and Veterans with the 85th Armed Forces Torchlight Parade," SLFA President Sam Snow said. "As we move past the pandemic and back into normal events and activities, community gatherings like the Lilac Parade help us all move 'Onward'."
Here is the daily schedule of events during the Lilac Festival:
Monday, May 15
Shoebox Float Competition: The 2023 Roal Court will view and help judge shoebox floats built by sixth-grade students in Spokane. Medals and ribbons will be awarded to the top floats.
85th Lilac Festival Week Proclamation: SLFA President Sam Snow and the Royal Court will deliver a proclamation before Spokane City Council declaring this the 85th Annual Lilac Festival week.
Tuesday, May 16
Lilac Legacy Art Show (6:00 pm): The Seventh Annual Lilac Legacy Art Show will be taking place on Tuesday, May 16 at 6 p.m. The show will feature artwork from 14 local artists and the selection of the 2024 Official Festival Artist and artwork. Entry to the art show is $5. Tickets can be found here.
Friday, May 19
Queen's Luncheon: Join Queen Josephine and the 2023 Onward Lilac Festival Royal Court for a luncheon hosting visiting royalty and youth representatives from regional communities on Friday, May 19. The event will also recognize the Teachers of the Year, that have been selected by each Royal Court member from their respective high schools. The event takes place on Friday, May 19 at 11:30 a.m. at the Historic Davenport Hotel. Tickets for the event are $55 per person. Tickets can be found here.
President's Gala: Community leaders from across the Pacific Northwest will recognize Civil and Military Persons of the Year while enjoying entertainment and a keynote from 2023 Parade Grand Marshal, Rear Admiral Douglas Asbjornsen. The event will be followed by dancing with Mojo, the Party Band. The takes place on Friday, May 19 at 6:30 p.m. at the Historic Davenport Hotel. Tickets are $110 per person. Tickets can be found here.

Saturday, May 20
Cruzin' the Falls Car Show: This beloved car show returns to Spokane Falls Blvd. near Riverfront Park. Registration opens at 9 a.m. and closes when full or at 11 a.m. The awards presentation starts at 4 p.m. followed by a reverse car parade through the parade route at 5:30 p.m.
Lilac City Marketplace: The Lilac City Marketplace is a chance to support local artisans and find something uniquely Spokane. The event takes place on Howard Street next to the Cruzin' the Falls Car Show, from 10 a.m. – 5 p.m.
Rose Planting by the Portland Rose Festival: The Royal Rosarians will be planting a rose bush in honor of 2023 President, Sam Snow, at the rose garden at Manito Park. The Ceremony begins at 10:30 a.m.
Second Annual Lilac Festival Brewfest: Brewfest is back for a second year. Brewfest will showcase over 30 of Spokane's many award-winning and innovative breweries. Tickets include a commemorative glass and tokens for a 5-oz pour at the participating breweries. The event will take place from 1 p.m. to 5 p.m. at Riverfront Park. Tickets are $30 in advance, $35 the day of, and VIP tickets are $40.
Armed Forces Torchlight Parade: Don't miss the nation's largest Armed Forces Torchlight Parade. The parade will take over 16 square blocks in the heart of downtown. It begins at 7:45 p.m.

ROAD CLOSURES (estimated times)


Starting at 8:00 a.m., Spokane Falls Boulevard between Stevens and Post Street; Wall and Howard Street between Spokane Falls Boulevard and Main Avenue will close for the Cruzin' the Falls Car Show and Lilac City Market.
Starting at 4:00 p.m., streets adjacent to Washington north of Spokane Falls Blvd to Boone and Spokane Falls Boulevard between Browne and Stevens will begin to close to prepare for staging.
5:30 p.m., the remaining streets along the parade route will close between Spokane Falls Blvd and Second Avenue.
Traffic on the Monroe Street Bridge will be reduced to accommodate for exiting parade units. Vehicles passing through downtown during that time are recommended to detour to Division or Maple.
All streets will re-open around 11:30 p.m.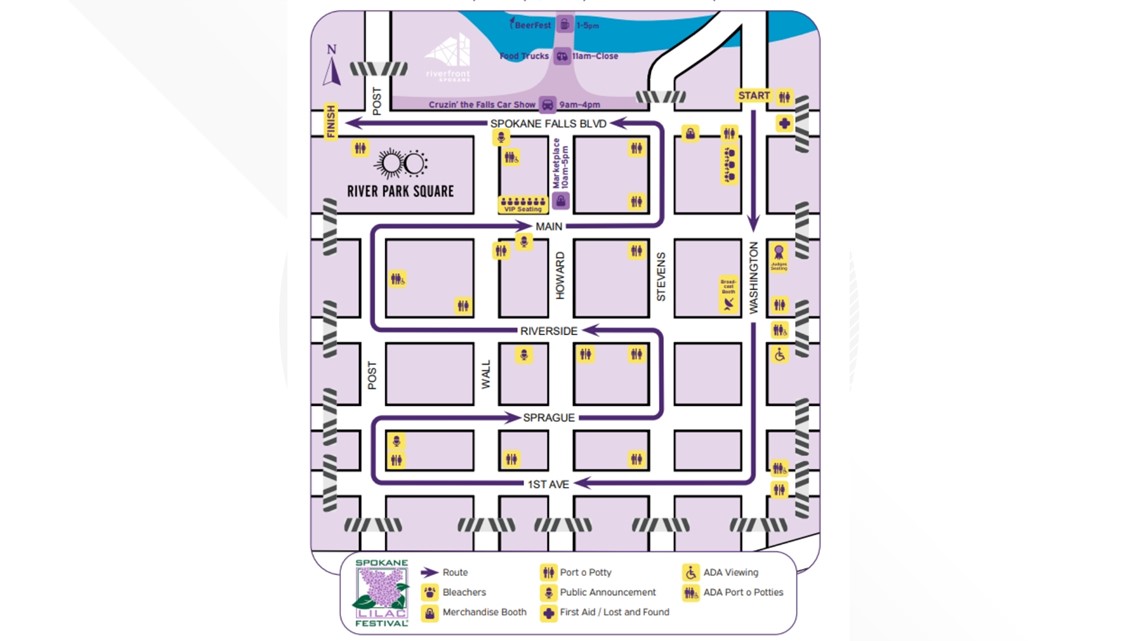 DOWNLOAD THE KREM SMARTPHONE APP
HOW TO ADD THE KREM+ APP TO YOUR STREAMING DEVICE
ROKU: add the channel from the ROKU store or by searching for KREM in the Channel Store.