Helpful links:
If our weekend storms were a Broadway show, Friday was the dress rehearsal. Saturday is opening night.
A major storm that could pack wind gusts over 50 mph inland and 70 mph along the coast arrived Saturday afternoon and will continue well into the evening, bringing with it hundreds of thousands of power outages and danger from falling trees and branches.
There is some good news for those living farther inland. The latest storm models Saturday morning have the storm track moving west and weakening slightly. The coast will still get nailed, but those in the Puget Sound area won't get hit as hard. That being said, it will still be a wild ride.
The strongest gusts on the coast will be 3-9 p.m, according to KING 5 Meteorologist Ben Dery. Inland, it will be 4-10 p.m. The strongest winds will only last an hour or so.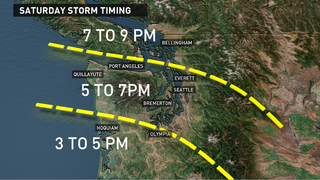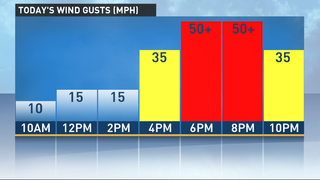 The storm is making a track toward Vancouver Island, but Clallam and Jefferson counties on the Olympic Peninsula will get nailed in the process.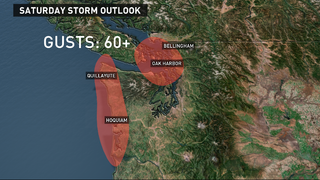 Seas along the coastal beaches could exceed 25 feet Saturday and Sunday.
The rain and wind will gradually decrease early Sunday morning with scattered showers and breezy conditions.
Friday's windstorm led to tornado warnings along the Washington coast, and one even touched down in Manzanita, Ore. A four-year-old boy was seriously hurt by a falling tree branch in West Seattle. Tens of thousands of people lost power across Western Washington.
Up-to-the minute storm updates: For those on the KING 5 App, click here
Copyright 2016 KING