SPOKANE, Wash. -- Gonzaga Prep launched a fundraiser at Friday's football game to support Steve Gleason's foundation.
The school launched 34 Challenge to honor their alum and to raise money for Team Gleason. You can donate to 34 Challenge here.
"The first game Steve played here. His sophomore year, he played against LC," said Defensive Coordinator H.T. Higgins.
Higgins coached Gleason all the way back in 1992, and was there for his first play on Varsity.
"Even though he clearly was the most outstanding player on our team, it was never about him," said Higgins.
Gleason wore the number 34 during his time at G-Prep. G-Prep students said they hope to raise $34,000 for Team Gleason and for G-Prep's scholarship fund. They will also make a bow to Gleason in the crowd -- they have ordered 340 foam helmets for students to wear.
Gleason will not be present at Friday's game. But students said they hope 34 Challenge will help recreate the inspiration Gleason brought to G-Prep when he was there.
"He's inspired me as a teacher, as a coach, as a parent and as a man about specifically living in the moment," said Higgins.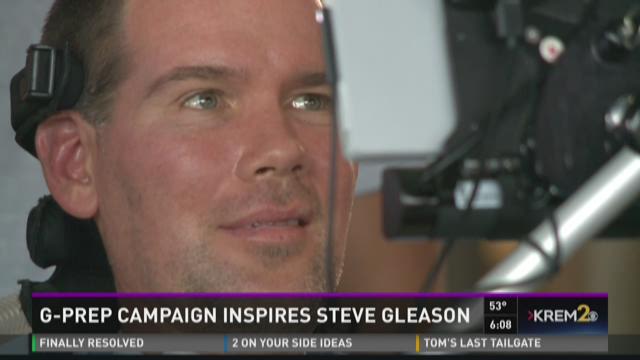 At halftime, another former G-Prep player Klint Wacholz will make an appearance at halftime. He said he plans to read a letter Gleason wrote to the Bullpups a few years ago:
"The purpose of my message is to inspire you to be poised, persistent and courageous... Do this to inspire me, to support myself in a mission to achieve the impossible. Let's do this. Have fun tonight. Exhaust yourself in the mission. Steve Gleason. A Bullpup."
The team said they plan to use Gleason's message as fuel.
"If I have a rough day I like to think about Steve. He's having rough days and he's just able to battle through it," said Gonzaga Prep player Conor McKenna.
Gleason now battles ALS.
But after graduating G-Prep, he launched his star-studded football career. He went on to play for WSU and then the New Orleans Saints, where he made one of their most memorable plays. Gleason blocked a punt in the Saint's first home game after Hurricane Katrina.
The play became a symbol of recovery for the city.
Gleason's inspiration did not end there. He was diagnosed with ALS in 2011, and used his condition to change national policy. President Obama signed the The Gleason Act was signed into law by President Obama in July 2015.
"I would put my hand on his hand and just let him know my life has been touched by his," said Wacholz.
The act ensures patients battling diseases like ALS, access to speech generating devices. The legislation is in response to policy changes by Medical and Medicaid that limited access to this technology.
He also launched Team Gleason to help improve the lives of people with neuro-muscular diseases like ALS.
"Looking forward to everybody playing with the energy that Steve played with," said McKenna. "I'd say thanks for inspiring me through my whole life and you'll keep inspiring me."
Coach Higgins had his own message for Gleason, who will not be present for the game.
"I love you. Period. I love you."